Walton Goggins Talks Justified Season 4, Boyd's "Spiritual Crisis," End Game
Jim Halterman at .
Justified Season 4 burst out of the gate last week, with viewers noticing one missing element from an otherwise terrific premiere:
Raylan and Boyd did not share a scene together. In fact, their stories appear to be on very separate tracks.
But Walton Goggins assured TV Fanatic during an exclusive interview at the Television Critics Association press tour: the two men will butt heads eventually - and the interaction will be worth the wait.
During our chat, the charismatic actor (also appearing on the big screen in both Lincoln and Django Unchained) also discussed how Boyd's world is rocked by religion this season, while also discussing his relationship with Joelle Carter's Ava...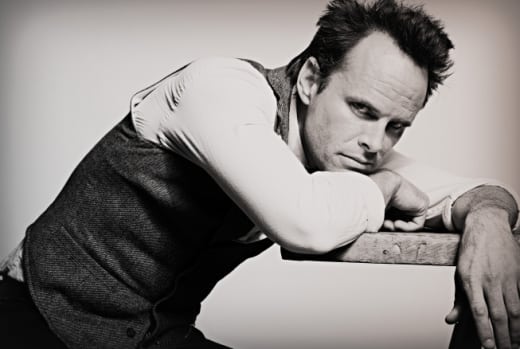 TV Fanatic: How does this season differ from past seasons?
Walton Goggins: It feels like it's pared down in a way that allows us to be quiet and have scenes that are longer and celebrating the poetry and the words that these writers write. Yet, simultaneously, at any time violence can happen and that for me is when we're in our sweet spot.
TVF: Talk to us about religion because it's something that has popped up for Boyd throughout the series, including this year with Joe Mazzello's preacher character.
WG: Well, I think what the writers really wanted to do in talking about Boyd and where is Boyd in how he feels about that institution, where is he in his life, and the thing about having Joe Mazzello, he's an unbelievable actor. He plays this preacher that comes back in Boyd's world.
Boyd is so reticent about stepping into that tent. It's not a place that he's comfortable with anymore and in some ways it allows Boyd to go into a spiritual crisis and to look at a man who is extensively himself and hopefully learn something from this interaction, as violent as it may get. That there's a lesson there that there may be something wrong with the messenger, but there's not something wrong with the message.
TVF: Does that make Boyd relook at where he is with his faith? Is that what that story becomes about?
WG: I think it's part of it or coming to terms with how he really feels about it.
TVF: When Boyd and Raylan's paths cross again is their relationship the same as it's been or is it different?
WG: It's different. It's different. It's familiar but to me it's different and where they're headed to this season…this level of acrimony will not be something that we've done before in the show. I think at one point civility is going to go out the door, yet it may be more civil than it's ever been when we first meet. But it's funny where it needs to be and it's dramatic where it needs to be.
TVF: What would you say is Boyd's endgame? Does he want power? Does he want money? Does he want love?
WG: [Grins] I know what Boyd's endgame is. But I can't tell you and hopefully we get an opportunity to tell it but I have a real deep understanding of what Boyd's endgame is. What's interesting is this season you will clearly understand what Boyd's endgame is now and based on that going forward the repercussions of going after this dream will significantly change, but set him on a path to his real endgame. It's deep.
TVF:  Does it have anything to do with this money he has hidden? Because he has these stacks of money that could be good or bad for him.
WG: I think they're going to be both good and bad. Yes, suffice it to say that money will come in play.
TVF: Talk to me about Boyd and Ava because in all the craziness of the world that relationship kind of...
WG: … works.
TVF: Yeah, it might go through ups and downs but they stay solid. Why do you think that is and can we expect that to stay the same this season?
WG: I think for these two people there has been a gaping hole in both of their lives independently and this union has allowed them to find the missing piece and for these two people whose background was filled with so much violence that kind of love and understanding and compassion and kindness, the lack of those things was the thing that they needed most and they found that in each other and they're not letting go of that.
TVF:  Do you think there's any way Boyd and/or Raylan can come to the end the series – whenever that may be - and still be alive?
WG: I have my thoughts on that I'll keep to myself. But... anything can happen and on this show it will be justified whether you agree or not because we always have the title of this show to fall back on.
TVF: In real life who would win in a draw? You or Tim Olyphant?
WG: I think Tim Olyphant would beat WG every time and I think Raylan would beat Boyd Crowder every time - but I think Billy Crash from Django would beat Raylan Givens. The tonality of Quentin Tarantino [writer/director of Django] isn't that different than the tonality of Elmore Leonard. There's a reason Quentin said after doing Jackie Brown, 'well I'll probably only ever do Elmore Leonard novels going forward.' He decided, 'No. I have some more to say on my own. I'm going to do things on my own' but their style is very similar. So, it's nice to go from the tone of Justified to the tone of Django and then return to the tone of Justified.
TVF:  Last question: anything on Justified you want to make sure Boyd does over the next couple of seasons?
WG: There is and I can't speak to it but you will see it. You'll see the beginnings of it this season.
Justified airs a new episode, "Where's Waldo?" tonight at 10 on FX.
Jim Halterman is the West Coast Editor of TV Fanatic and the owner of JimHalterman.com. Follow him on Twitter.