The American Idol judges handed out golden tickets to 162 female hopefuls and tonight they descend on Hollywood. Hearts will be broken. Dreams will be crushed. Hopes will be shattered.
And that's just in the previews.
Which of the women will be left standing? Let's find out now!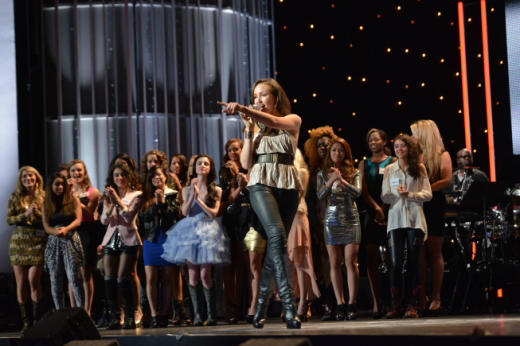 We begin tonight with sudden death performances. In groups of 10, the ladies will take the stage. Some will go home immediately while others will advance to the infamous Group Rounds.
Mariah Pulice, who is recovering from anorexia, and Angela Miller are in the first group, along with Victoria Acosta, a mariachi from San Antonio. Angela proclaims that this is the year for a girl to win Idol. It's been 5 years, after all. Angela and Victoria advance while it's the end of the road for Mariah. 
Country girl hopefuls Rachel Hale and Janelle Arthur end up in the same group. Nicki comments to Keith that Rachel is relatable and Janelle's performance is effortless. They both make it through to group rounds.
Candice Glover, who received a standing ovation during her audition, impresses the judges. Megan Miller, who auditioned on crutches, is in the same group. Candice moves forward while Megan goes home.
Kez Ban damaged her voice cheering for those contestants with whom she connected and felt she was coming down with a cold. Her performance was interesting. Brianna Oakley, however, shined bright. Their entire group made it through.
76 women moved on to Group Rounds, and as with the guys, the producers have assigned the groups. This will no doubt be full of drama and tears.
The Swagettes, Melinda Ademi, Kararmia Ousley, Denise Jackson, and Candice Glover, were one of the first groups to finish rehearsing the night before and they're the first to take the stage on Group Round. They set the bar for the day as all four of them move forward.
Raisin' Cain, a country group consisting of Morgan Leigh Boberg, Lauren Mink, Brandy Hotard, and Jenny Beth Willis also all made it through with a mediocre rendition of "Sin Wagon."
Savannah Votion, Lizz Weiss, Daysia Hall, and J'Leigh Chauvin invent harmonies for Gotye's "Somebody That I Used To Know." It's a hot mess. Daysia makes it through to the next round despite forgetting the lyrics while the other three group members go home.
She's not the only girl who forgets her lyrics tonight. The mass forgetting is near epidemic proportions as girls stumble over songs and stare into their sweaty, ink-smeared palms all night.
Christabel Klack, Kriss Mincey, and Janell Stinney jump right to great harmonies and then things fall apart when Janell starts to stress out that their performance isn't up to par. By the time they perform, half of them have forgotten the words to the song, and Janell sings no words at all. Somehow, despite the train wreck, all four of them move on.
Urban Hue, Seretha Guinn, Tenna Torres,and Kiara Lanier perform a rendition of "American Boy" that Nicki calls "painful." In a split decision, the judges send Seretha home and everyone else moves on to the solo round.
The Pooh Snaps, consisting of Zoanette Johnson, Isabelle, Erin Christine, and Lauren Bettes, had some issues during rehearsals. Zoanette felt their voices and styles didn't blend very well, but recovered and they put something together. I'm still not sure what they put together but it was something. The judges sent Lauren home and kept the other three.
Shira Gavrielov, Alisha Dixon, Liz Bills, and Courtney Calle have trouble keeping tabs on one another. Liz things the group keeps disappearing from her but the group things Liz keeps disappearing. They also decide to sing Gotye and Liz is the only person since Phil and Elise who know more lyrics than just the chorus. That pays off and she's the only one to move forward.
Two hours before their performance, Stephanie Schimel, Alex Delaney, Kalli Therinae, and Holly Miller change their song from "Total Eclipse of the Heart" to "Somebody That I Used to Know" and Stephanie blames it on nerves when the performance bombs. Stephanie and Holly move on while it's the end of the road for Alex and Kalli.
The Dolly Chicks, Britnee Kellogg, Kree Harrison, Brandy Neelly, and Haley Davis, hit a snag in their rehearsal when Haley goes to bed to save her throat. During the performance the next day, she and Brandy forget the lyrics to "Sin Wagon." Nicki dresses her down for leaving her group hanging. Somehow, Brandy is the only member of the group to go home. 
The final group to perform, The Misfits, Janelle Arthur, Angela Miller, Breanna Steer, and Kez Ban are quite possibly the most interesting group. Kez lobbies hard for "California Dreamin'" while the others are unsure. They choose 50s number, "Be My Little Baby." Kez Ban ditches her group to get food and the other three decide to meet before breakfast to rehearse without her. It's clear the other three members are as confused by Kez Ban as the rest of us. They all move on to the solo performance round.
The format of this season has been so crammed that it's really hard to pinpoint either male or female standouts. Schyler Dixon, little sister to Colton Dixon, is in the competition this year and we've yet to see her even once. Janelle Arthur is a judges' favorite, as is Candice Glover. Aside from those two, the rest just sort of run together.
Hopefully tomorrow night's solo round will bring a little more clarity about the girls in the competition. We'll be here recapping their performances!
Miranda Wicker is a Staff Writer for TV Fanatic. Follow her on Twitter.