It's been a long and sometimes tear-filled journey for the men of American Idol. They've survived auditions, sudden death eliminations, Group Rounds, and tonight they'll sing their final solo number for the judges.
Who will be left standing? Let's find out now...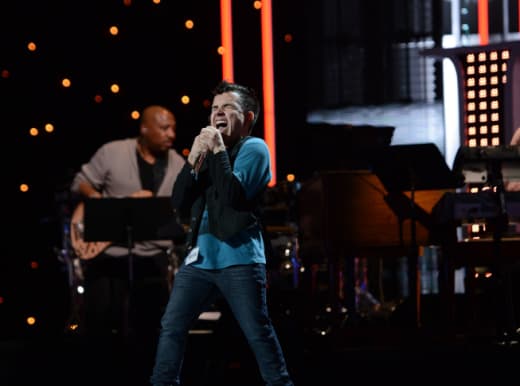 Cuts will be made after every 8th performance. 
Leading off the solo round is Paul Jolley who's quite nervous. So nervous he nearly cries before he can even sing and Mariah has to remind him to breathe. He's not able to overcome his nerves and Nicki calls his lack of confidence a "turn off" and unprofessional. 
Lazaro Arbos is the second to sing and chooses Lady Gaga's "Edge of Glory." Curtis Finch, Jr., sings "Jar of Hearts" and his theatrics distract from what could be an otherwise interesting arrangement of the number.
From the first group, Lazaro, Paul, and Curtis all move on. We might only be seeing the performances of those who will move forward, but we'll see.
In group two, Devin Velez dresses up "What A Wonderful World" and impresses the judges. Gupreet Singh Sarin sings "Georgia" and, as this is the first time in the competition that it's been allowed, he plays the guitar.
Cortez Shaw, who struggled in the sudden death round, seems to have found his footing before his final solo number. Matheus Fernandes says he's only used to singing in his car, which isn't true, and then butchers Kelly Clarkson's "Stronger."
Devin, Gupreet, Cortez, and Adam Sanders move on. Matheus is sent home.
As solo day continues, Nicholas Mathis' focus is on winning so that he can provide a better life for his children. He chooses a Bruno Mars number and doesn't do it justice. It's really a rough performance. Papa Peachez sings Lady Gaga's "You and I" and it's not good. 
Jimmy Smith, who struggled through the Group Round, performs "Landslide" and is the best of the three auditions we've seen in this set of 8. 
The judges send Nicholas and Papa Peachez home. Jimmy, returning contestant Johnny Keyser, and Vincent Powell move on.
Also returning from last year is Nick Boddington who takes a risk and plays the keyboard himself. It pays off as the judges are more than pleased with his performance. 
Charlie Askew gave a rambling, "smart" monologue about the girl he still loves as an introduction to Gotye's "Somebody That I Used to Know" after which Nicki calls him an artist. He responds, "I glorify weirdness." Yep, Charlie. Yep, you do.
Nick, Jada Davila, Mathenee Treco, and Charlie all move to the Top 28. 
Burnell Taylor and Marvin Calderon both sing "Jar of Hearts." Both advance in the competition. 
Changing it up with a country number, Micah Johnson sings Randy Travis' "I Told You So." His story, his spirit, and his voice are all amazing. The judges, however, wish he'd done more with the song and send him home. That was kind of shocking.
A list of the remaining contestants includes:
Adam Sanders
Bryant Tadeo 
Burnell Taylor
Charlie Askew
Chris Watson
Cortez Shaw
Curtis Finch, Jr.
David Willis
Devin Velez
Elijah Liu
Gurpreet Singh Sarin
Jimmy Smith
Johnny Keyser
Joshua "Josh" Holiday
Joshua "Josh" Jada Davila
Kevin Harris
Lazaro Arbos
Mathenee Treco
Nick Boddington
Paul Jolley
Peter Garrett
Vincent "Vince" Powell
But don't get too cozy with them just yet. Eight more of them will be cut next week after the girls storm Hollywood leaving us with a final Top 20.
What do you think of the list? Did the judges keep the right guys? Did they send the wrong ones home? Sound off in the comments! 
Miranda Wicker is a Staff Writer for TV Fanatic. Follow her on Twitter.