There are not many shows I can turn on and immediately start smiling and laughing, but Being Human is one of them.
"I'm So Lonesome I Could Die" provided one of the best opening scenes of any show I've seen in ages. I have no idea what music was playing while they were filming, but it wasn't what Sam Witwer was dancing to as he put Aidan through decades worth of moves. And, yes, his body can gyrate quite well.
In that same scene, we learned Nora and Josh had decided to let Erin stay with them. While Aidan (who Erin nicknamed "Twilight") was hosting a co-ed fraternity party in the living room, Josh threw out this incredible Being Human quotes zinger to start the hour right:
Erin: Twilight's was cool with it.
Josh: Yeah, Aidan's okay with it because when he was a teenager beer was safer than water. This is not the Mayflower. You are not a pilgrim. Upstairs. Now! | permalink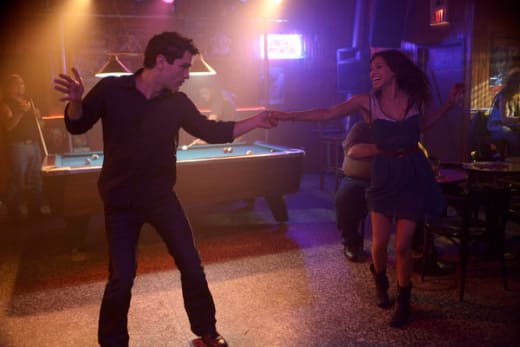 And just like that, everything that was so fantastic turned sour. That's the beauty of Being Human.
Nora needed to visit her mother to celebrate her birthday. It was the one day a year that she felt visiting was necessary, and when you narrow down family visits to once a year and consider it a necessity, you know something won't be right. Since Josh wants to share the rest of his life with her, he insisted he would go with her so they could finally meet.
As if meeting her awful family wasn't enough, the stress of being there and her mother bringing up the death of her ex at her hands gave her the courage to tell Josh what happened to Brynn. The good news is we don't need to worry about her coming back. The bad news is Aidan isn't the only one who killed one of Liam McLean's twins. Nora killed Brynn when she was playing with one of her victims like a toy mouse.
Nora is a hell of a lot stronger than I ever imagined. Not as a werewolf, necessarily, but in her ability to keep her fear from Liam while she was changed. How did she do that? I can't even imagine what kind of control she must have as a wolf now that Josh never achieved. I hope we explore that further, whether through she and Erin or when (if) Josh becomes a wolf again. I find it very intriguing.
Aidan was in such pain over the loss of Henry that he pretty much threw caution to the wind and decided to start a bloodoholic binge. Clean or dirty, it didn't matter. If he died, he died. Sally was still struggling with the worry of killing everyone she saw in the street, so it didn't seem a far cry to call Aidan's bluff and hold a stake to his chest. If he really wanted to die, she might as well be the one to take him out and save him the painful trip.
The conversation that followed between Sally and Aidan was kind of a call to arms. Sally decided she was going to be a human again, and Aidan got his crap together, took a long hot shower and reapplied for a job at the hospital.
This was a turning point episode, where our friends made the choice to get out of their funk and move forward. That doesn't mean it will be easy. Already Sally was snagged trying to steal a dead baby's identity, but she got a job at the funeral home with Max the hot funeral director. Josh alienated Erin and Nora's brother, sending the former away from the house, and Nora seems to be talking Josh out of asking him to marry her. But Aidan found a bubble boy to feed on.
They just needed to pick their chins up off the ground, take some chances and have faith in themselves. If they want to be human, they have to work harder than the rest of us to achieve it. As usual, it will be a roller coaster in that house.
Carissa Pavlica is the managing editor and a staff writer and critic for TV Fanatic. She's a member of the Critic's Choice Association, enjoys mentoring writers, conversing with cats, and passionately discussing the nuances of television and film with anyone who will listen. Follow her on Twitter and email her here at TV Fanatic.