Now, that was fun! Castle aired "Reality Star Struck" this week, an episode centered around the murder of a "reality" star and some Valentine's Day competition between Castle and Beckett. It was the kind of episode long-time Castle fans love.
The Murder. The hour was spent looking for the killer of a young reality star from "The Wives of Wall Street." One word can describe this spoof. Hilarious. One of the best parts about this installment was the fact that it brought Gail O'Grady back to our screen. I've missed her since Hellcats got canceled. 
The case itself was pretty predictable, but it included the ingredients to a perfect Castle episode and it did it well.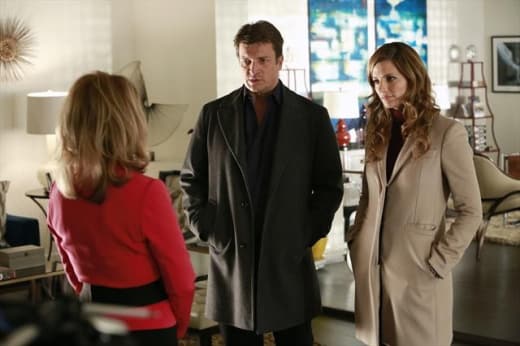 The First Valentine's Day. Amidst the murder, the detectives were still celebrating Valentine's Day, and for two couples that meant their first February 14 together.
Castle and Beckett competed over who would give the better gift. The presents were not even the best part. Castle accidentally slipping Beckett's gorgeous earrings into Gates' jacket was the icing on the cake for the hour. Trying to get them back, facing Gates when she found them... everything about it was pretty much awesome.
Who knew that Kate Beckett had such a romantic side? She pulled the sweet move by offering up a drawer at her apartment for her man. These two have made some serious strides in their relationship and it is still just as much fun to watch as the will-they/won't-they games from last year.
These two weren't the only ones celebrating the holiday. Lanie and Espo went out for their first V-day. It's no secret that I am a big fan of anything Espo related. Having these two get back together is just what us Espo-fans want.
Side NotesL
How hot did Lanie look in that red dress? Smokin'!
Of course Gates was a reality TV fan.
Even better, Gates and Castle sharing the love of "The Wives of Wall Street." Pretty awesome.
Overall, another fun episode from our favorite detectives. There were actual laugh out loud moments, as well as the sweet ones. Once again, Nathan Fillion killed it with his facial expressions throughout the hour. I've said it before and I will say it again: is there another actor that can portray so much from just his face?!?
So how can we move forward after such a great episode? The annual two-parter! It's that time of year again. Castle will be airing their annual high stakes, high tension episodes over the next two weeks.
So until then, Castle fans. Hit up the comments, sound off on the Castle Round Table later in the week and patiently wait with me for the next episode.