"Target" led us down an ominous path, as Alexis was abducted and Rick was left to embrace his dark side.

Our Castle Round Table team of Jim Garner, Chandel Charles, and Christine Orlando are joined below by Castle fan LeaAnn from The 12th Fan Forum as they debate whether or not Rick went too far and if Kate and Castle's relationship will change now that she's seen what he'll do to protect one of his own.
-------------------------------------------
What was your favorite scene from the episode?
Jim: I really enjoyed when Kate hugged Rick at the station, saying she didn't care if Gates saw. It shows how close they have really gotten that in a time of crisis, the rules go out the window.
LeaAnn: I can't stop hearing and visualizing Kate reminding Rick that he had taught her that they "had done this before with less to go on," along with Rick's broken, "Thank you" as she persuaded him to go home to his mother with the "decaf for the road."
Chandel: I don't really think it's possible to have a favorite scene in an episode like this, except for when Alexis took control of her and Sara's situation and tried to speculate as to where they were being hidden based on what she could and couldn't hear. Years of being Castle's daughter really coming in handy!
Christine: I have to go with the scene at the van. You couldn't help but feel Castle's complete desperate terror when he feared his little girl was dead. Couple that with Kate and Lanie struggling to remain professional and get answers while trying to give him some comfort and it's a scene I'll never forget.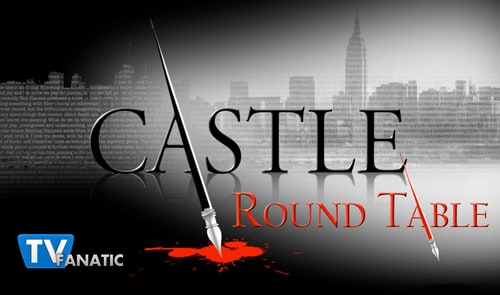 Do you think Castle went too far with the suspect?
Jim: First, we don't know exactly what he did to the suspect; he could have just poked him in his wound. That said, like Rick, I think we all have a dark side inside of us that can be provoked under the right conditions.
LeaAnn: No. As a parent, I would do anything to protect my children and grandchildren. This is not about "relative morality" but about doing what is in one's power to save one's most beloved and innocent. Rick is not a member of the NYPD at this time - he is a father trying to save his daughter. 
Chandel: I don't think he did anything that someone else in a similarly desperate situation wouldn't have done. We don't actually know what it was that Castle did save the screaming in agony we heard. He might have just punched the guy in the stomach for all we know.
Christine: Did he go too far? No… and I don't even care what he did behind that door. There's nothing I wouldn't do to save my daughter in that situation. That quiet tone and the dark look in his eyes showed us a Rick Castle we didn't know existed and I found it fascinating.

Will Kate and Rick's relationship change now that she's seen his dark side?
Jim: Not at all. I think it will make them stronger, as she had previously shown her dark side with the Senator - and knowing Rick has one makes them both more human.
LeaAnn: Yes, their relationship will, inevitably, grow and change... but not diminish when facing life-altering catastrophe. I think that Kate, who first appreciated Rick as father and son, loves Rick unconditionally and understands that he will do anything to save his daughter and the people he loves  I feel that Kate reacted - thinking not only of Alexis but also of their own future children - when Rick declared in "Death Gone Crazy" that a father would do anything for his daughter. I believe Kate knows that Rick could not live with himself if he did not do all possible to save Alexis.
Chandel: I don't think so, other than making her cognizant of the fact that he has a dark side to begin with.
Christine: I think that she's seen small glimpses of his dark side before but never to it's full extent. It may change how she sees him but that's not a bad thing. Hopefully it will only bring them closer together.

Did Martha's calm strength surprise you?
Jim: I want to know who she called. Nobody is that calm unless they have an ace up their sleeve and, given her history, I'm betting on Martha knowing someone that will be able to help.
LeaAnn: No, it didn't. Martha displays a flighty joy, sense of wonder and a zest for living. But when needed, she is there for Rick and Alexis. His mother has been Rick's sounding board when he struggled to express his love for Kate; when he tried to keep Kate safe and during his anguish and anger after her shooting and in "47 Seconds" when he learned that Kate had definitely lied about remembering his ILY. She's his rock.
Chandel: I think she realized that was a role she had to step up and fill given Rick's propensity to fall into the negativity, and understandably so.
Christine: No. Martha always shows us her joie de vivre (as she'd call it) but she was a single mom raising a son on her own long before it became the norm we know it to be now. Add to it that that son became one hell of a good man and I'd say Martha Rodgers has reserves of strength we've yet to see.

Do you hope to see Castle going rogue to get his daughter back or Kate and Rick working together?
Jim: Either would work fine for me. Granted, him going rogue would have a bit of a Taken feel to it. But, given it's Paris, it would be cool to see Kate along for the action.
LeaAnn: It's not that I hope that Castle will go rogue, but I support his going rogue as well as his working with Kate, in order to save Alexis and Sara. Just as Castle gave the wounded accessory to the crime a chance to reveal what he knew before resorting to violence himself, I think that Rick will go rogue only if that were the only way to save Alexis.
Chandel: I think seeing him go rogue in a foreign country will certainly up the stakes a bit. But also Kate and company are a little outside their jurisdiction in France!
Christine: I'd love to see them doing this together and for Kate to be there when he finds his daughter, but I won't be surprised if Kate remains behind to do everything she can from that end of the investigation.

Rank the previous two-parters from eason 2 through 4.

Jim: From most tense to least tense (1)S3: Setup & Countdown, (2)S2: Tick, Tick, Tick & Boom! (3)S4: Pandora & Linchpin
LeaAnn: S2 = Tick, Tick & Boom!: I love this episode for creative clues and plot twists; S3 = Setup & Countdown: I love this episode for the freezer scene cliffhanger, when Kate nearly manages to say I love you; S4 = Pandora & Linchpin: I love this episode for plot twists; revelations to Kate of Rick's past; the humor yet intensity of Kate's admitting that she was a bit upset to learn that Rick had previously "researched" with someone else; and the cliffhanger with the car in the river.
Chandel: I think S3, S4, and then S2 is the order for me as it stands today.
Christine: Best: S3 - I loved the freezer scene but hated that Josh was still in the picture at the end. Next: S2 - Loved Tick, Tick, Tick, but the humorous start to Boom! made the two-parter feel disjointed to me. Last: S4 was my least favorite two parter by far. We should have seen Rick pull Kate from the water. Without that scene the danger lost all impact on me.
C. Orlando is a TV Fanatic Staff Writer. Follow her on Twitter.