"You and I Will Meet Again" dealt with the elephant in the room: Travis and Laurie.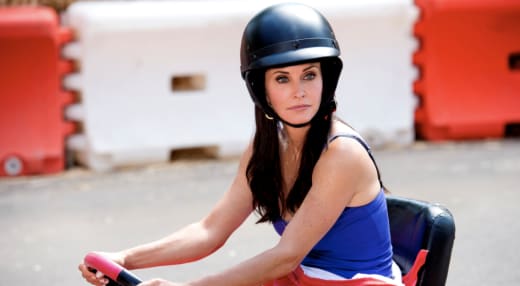 While Cougar Town put to rest Travis and Laurie for now, it's difficult to imagine they will not intersect again metaphorically. The problems these two face are never over a lack of chemistry or a clashing of personalities; no, they are mostly from outside forces.
Jules is very much in the middle of both of their lives and, while she is a positive influence on Laurie, she wouldn't have any objections to dropping Laurie instantly if she hurt Travis. Jules even knows the perfect way to kill Laurie if things go badly for Travis and Laurie.
Strike one.
While Cougar Town Season 4 (as well as last season) has certainly boosted Travis up from a sarcastic teenager to a young adult, there are still maturity and age gaps that both Travis and Laurie need to overcome.
Laurie is just now beginning to get her life in order after a poor childhood and poor decisions and Travis still needs to find out what he wants to do with his life. He needs to begin that first tentative step into adulthood because, at this point, he has one foot in childhood and the other in adulthood.
As of now, Travis' standing is one of Laurie's biggest discrepancies: she can't dismiss their age difference, nor can she keep the knowledge of Travis' childhood in the past. In Laurie's eyes, Travis is still a kid.
Strike two.
The final obstacle for them is just circumstance. Sometimes things just don't go as planned. Travis is willing to wait for Laurie, but Laurie doesn't want to wait on what-ifs. Laurie knows she has a good thing with Wade, and Laurie doesn't want to wait around hoping something arises out of nothing with Travis.  
Strike three.
Just like that, Travis and Laurie are out for now. I'm sure they will meet again at another time, but they need to live their lives separately and as friends. Maybe circumstances will be better for them later on.
Aside from Laurie and Travis, Jules and Grayson had their naked day. I'm really enjoying the direction Cougar Town takes with Jules and Grayson every week. They feel as real to life as the show allows while still being poignant and funny together in a way only the cul-de-sac crew can deliver. Sometimes they split and have a most guys and girls respective story, but most of the time they do couple things together.
It's a nice departure from the endless will-they-or-won't-they cycles that television is known for. It can far more entertaining to watch a couple be a couple rather than needlessly tormenting your audience for seasons on end. These two didn't lose their personalities or charm just because they got hitched and being together only gives them more story and comedy.
Plus, they're a good foil to Andy and Ellie's rock solid relationship.
A Few More Thoughts
I'm ready for the what-if episode story of Andy and Bobby running away together.
Has Tom taken over for Barb? I miss my Barb!
Ellie's complete loss of control when Wade asked if he should just buy two or three bottles of wine.