"Stay With Me" brought Deception back after a big stumble last week. But there are still quite a few superfluous plot elements that don't move the story along in any way.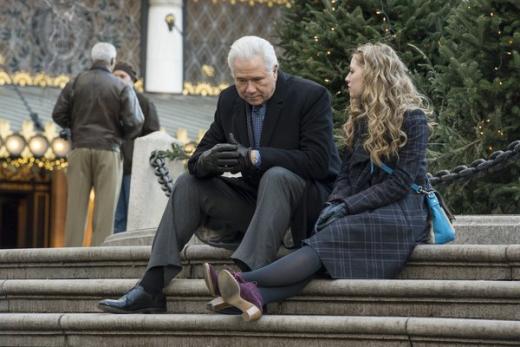 Haverstock dying of Leukemia is not at all surprising, and his reaching out to Mia now makes much more sense. He's willing to seek out and expose his own biological daughter if it means he can scrape some bone marrow out of her to save his own hide.
Just when he hits a new low, the guy brings out his shovel and keeps digging. His actions are such a shame, really, because his bonding with Mia just a few seconds prior were enjoyable; however, at least he's honest and direct with her, something that Mia isn't getting from her own family.
Haverstock is certainly an illuminating part of the Robert puzzle because it characterizes Robert as a man who isn't afraid to rub elbows with the wrong kind of person, nor is Robert afraid of hanging around people who pay in blackmail.
The new ripples with Audrey and Ben are another odd development (this is an episode with the Russian mob), and the look of terror on Audrey's face as Julian began questioning the data made her guilty flashback with Ben even worse. I'm beginning to wonder if everything that's happened since the pilot is just a big set up from the competing drug company.
I really hope that isn't the case, but with Deception's recent track record I can't say I'm optimistic about my theory not coming true.
Robert is a truly scary man, and with each passing development (i.e. his ducks falling out of alignment) his actions become more and more questionable. He's willing to threaten Will without blinking an eye and Joanna's failing of the polygraph puts her in his crosshairs. Even Rayburn, Robert's resident knee-capper, has issues with Robert's likely course of retaliation.
Sofia's Wyatt situation is still pointless. Sofia might have been in it for Robert's money in the beginning. However, like Joanna in some ways, she found herself caring for the family. She's willing to go to Haverstock to keep Wyatt in jail and it's doubtful that she even loves him anymore. The only explainable reason why she's lying to Robert is she fears what he is capable of.
At least Joanna is finally part of the plot again after doing mostly nothing for the last few weeks. Her run in with the Russian mob, her silent break down with Will and her check out with Julian all feel connected albeit very strange bedfellows. It's still hard to figure out how the Russian mob is connected to everything, but I'm thinking Robert is using them as a front to cover up Lyritrol's dangers in Thailand.
Joanna's semi-love triangle with Julian and Will took another turn this week and it's not hard to blame Joanna for running back to Julian. Joanna was completely shaken up over her interaction with the Russians. While I understand that Will has things to do and he can't spend the entire day with Joanna, she wasn't asking for the entire day. Joanna just needed a few minutes to compose herself and process it all with the only person who knows about everything she's going through, and, instead, Will walked out.
Julian, meanwhile, offered his shoulder. At this point I'm firmly rooting for Julian over Will.
Other Thoughts
Haverstock's blackmail of Kyle continues.
With the golf club in his possession will Robert be the one to turn Edward in? That way he can turn the spotlight away from his company and damage Edward's credibility?
Will sure found the secret compartment in the SUV in no time.