On "Details," Elementary fans were given another new approach to a case, as opposed to the usual murder investigation.
From last week's kidnapping to tonight's frame job, it seems Elementary is keeping it fresh. The center of the hour was the very static Detective Bell, who was finally given some back story that made his his character a lot more interesting.
We also found out that Sherlock knew Watson was no longer being paid to be his sober companion. (NOTE: I also must say that this episode was one of the funniest of the season so far.)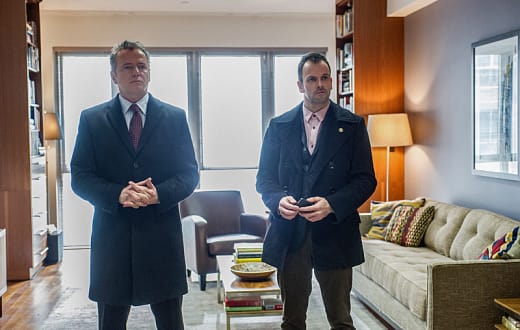 Let's talk Detective Bell. After fourteen episodes, we finally learned a little bit about him. We met his thug, ex-convict brother, who I adored right away. We were also introduced to his ex-girlfriend, Officer Reyes, who attempted to kill him and then frame him.
Marcus, I think you have learned the hard way now, you should treat the women in your life with a little bit more respect. We'll just mark this down as a lesson learned.
For most of Elementary Season 1, I haven't been the biggest fan of Detective Bell. I just didn't care about him. This was only because we haven't been given anymore reason to enjoy his character other than he is a good detective. Now that we've learned some things, though, I really hope we'll get even more.
The thing I found most entertaining about Bell was learning how much Sherlock actually enjoyed him and respected him.
Speaking of Holmes, we witnessed a few revelations tonight. The biggest one being he knew that Joan had lied to him about his father extending her stay as his sober companion. The best part about his discovery is that he didn't say anything right away, he let her try to move on but recognized that she obviously didn't want to.
Which lead to Holmes and Watson FINALLY becoming official partners. I may or may not have fan-girled at this moment. Now that these two are official, I am looking forward to seeing Watson in more of a "detective" role, ditching the sober companion relationship.
Another scene I enjoyed in this episode was Watson and her therapist. I feel like the writers of Elementary are reading my Elementary reviews because I have absolutely raved about these scenes and begged for more. This is one of the few times we see Watson being completely honest with someone about her situation and how it makes her feel - but for the first time in this episode, I was telling the therapist to shut it!
Joan is finally happy with the work that she is doing; her therapist was the one who made her realize that working with Sherlock IS what makes her happy. Make up your damn mind, woman! (Serious note: I still want to see these therapist scenes.)
Another aspect I adored was the fact that it didn't revolve around another murder. Granted, the murder came later on in the episode, but it wasn't what kept the episode moving forward. I really am liking the mix up from murder investigations to frame jobs and kidnappings. It feels like the writers are keeping us on our toes.
Now it's time for to talk about my favorite part: when Sherlock admitted to Watson that he is better when she is around. I do "ship" these two together in the long haul and I feel like it's possible the writers are hinting at something here. Holmes said, "difficult to say why, perhaps, in time I'll solve that as well." It seems to me that they may be hinting at some subconscious feelings that Sherlock may have towards Joan. If that is the case, I think it is WAY too soon. 
Regardless, the line made me smile and that scene was portrayed so well. It's moments like these that make Elementary so great.