The Carrie Diaries Review: Diners, Driving Tests and Dinner Parties
Leigh Raines at .
It can be so hard to not compare everything about The Carrie Diaries to Sex and the City. For instance, on "Dangerous Territory," Carrie enters another world as she attends her first fancy Upper East Side dinner party.
How can I not automatically think back to when Carrie went to Big's friends stuffy party that only served clear food and drinks? It's good to know that even years later Carrie wasn't intimidated much by pretentious bitches.
As she told rehab Blythe, just because she's from the suburbs doesn't make her a loser, it just means that's where she lives.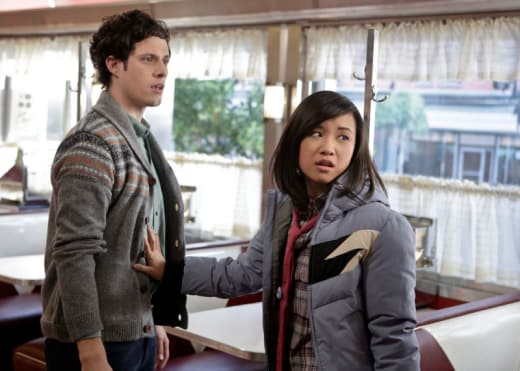 I love how even in an uncomfortable situation, Carrie can always hold her own and stand her ground. It's like we saw when she went to the underground art party in "Read Before Use." Carrie speaks her mind, which is usually a good thing as long as she's not babbling. Babbling is a tendency she seems to have around Sebastian Kydd.
Can you imagine taking your driving test and trying to parallel park when you suddenly see your former flame making out with your arch nemesis? I'm sure I would've plowed down all of those cones and then some! Talk about high pressure. Plus, Donna isn't exactly the discreet type. There was no one else on that road except a person taking their driving test, it wouldn't have been hard to notice it was Carrie.
Luckily, Carrie had a distraction in George Silver, her old family friend. After a few bonding moments with her boss, Carrie went to George's mother's fancy party. Kick, George's snobby mother, was a total crank until she realized that Carrie's last name was Bradshaw. It turns out Carrie's deceased mother used to rub elbows with these fancy people and Kick ended up being the woman who told Carrie about her mother wearing a flower in her lapel. Fast forward 20 years and this is still a signature Carrie Bradshaw fashion move.
I hope that Carrie softened Kick a little, but truthfully a grown woman shouldn't be acting so childishly rude to anyone, regardless of whether or not she once knew their parents. 
Back in Castlebury, Maggie stood her ground at the diner against Donna as Walt showed Mouse a how-to sex tape. Not gonna lie, I'm pretty curious about this educational sex tape. It doesn't exactly sound like the kind people are forced to watch in health class. Mouse was able to impress Seth with her new moves, but not without also teaching him a lesson in absurd double standards.
This is such a ridiculous double standard! So if you sleep with a bunch of girls you're cool, but if I do I'm a slut? | permalink
Sadly this is still a stereotype almost thirty years later. I have to give the show props for being so candid about sex and how awkward the whole thing is when you're young and still discovering things. I thought this episode had some good honest and humorous moments.
What did you think of the latest episode of The Carrie Diaries? Hit the comments!