"Couples Discount" focused on two key structural aspects of The Office: Jim and Pam's relationship, and Andy Bernard fitting in at Dunder Mifflin. Neither the marital fighting nor the Nard Dog's return was fundamentally successful, thus ending a recent run of quality episodes.
On the surface, I completely respected this week's fight between Jim and Pam. It's certainly fine to have them struggle as a couple at this point in the series run, and both John Krasinski and Jenna Fischer did remarkable jobs portraying the hurt that both Jim and Pam are going through, but it came about in the wrong way.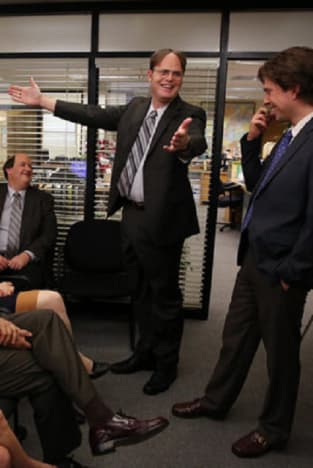 Using Boom Mic Brian as an entrance point to Jim and Pam's struggles is forced and a waste of opportunity with the behind-the-scenes characters. Continuing with my Brian issues, he and his wife have become great friends with Jim and Pam?!?
That comes out of thin air to the viewer. It may be true in their world, but how is the audience supposed to connect with what they were making out to be an emotional moment when we hadn't seen this guy before he swooped in to console Pam? If they were just going for laughs, it would be another story.
With Jim and Pam heading home to fight on Valentine's Day night, and the pair of smiles each had in the final moments, we could be out of the woods with this whole inorganic love triangle. But that would be too good to be true.
Also too good to be true was a return of Andy Bernard that didn't remind us of how much it ruins the show when he is central to the story line. Remember the past few weeks when Dwight was leading the plot? Yeah that was awesome. This was not.
The Nard Dog was annoying with his new instruments, he was the worst when he screwed the branch out of the White Pages deal and he deserves to be cursed for his play on the New Girl theme song.
Unlike Community, where they realized Britta was the worst, used that as the joke and she quickly grew into a hilarious character, Andy being the worst isn't adding much of anything to The Office.
The best thing that came out of Andy's return was Erin kissing Pete, breaking up with the Nard Dog and yelling at him for being gone for three months. I cheered when David Wallace chimed in on the end of the phone, finally figuring out the truth.
There were a few other highlights from "Couples Discount." Check them out below, head over to our The Office quotes section for all the best lines from the series and then let us know what you thought of this week's installment in the comments.
Dwight imitating Andy, especially all of the "ruh-duh-duh-doos."
Erin: Bam Andy! How you like me now? I hope as a friend.
Erin was awesome and awkward on Andy's return, not wanting to hug and calling him "buddy."
Dwight: I really like Andy these days. He's pretend and he does exactly what I tell him to.
Darryl not wanting to pretend to be gay with Oscar until he realizes the camera is right in front of him.
Dan Forcella is a TV Fanatic Staff Writer. Follow him on Twitter.