It's been a year of changes for American Idol, with new judges and tweaks to the format. Tonight, the Top 10 finalists have traveled back to Hollywood to begin fighting their way to first place.
This week's theme is "Songs of the Idols," which means any song that has been sung on the show by a previous winner or any song released by a winner, and they'll need to put their own twist on those songs to make them original. Our pal Jimmy Iovine will be back to mentor them along the way. Let's get to it...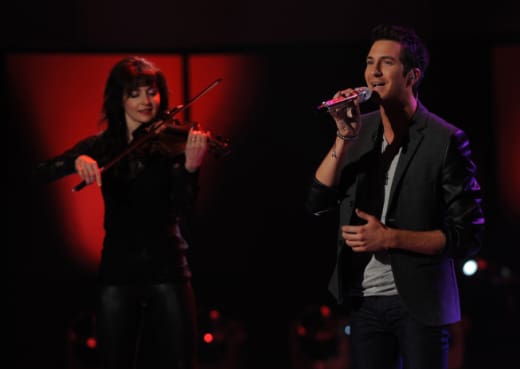 Curtis Finch Jr. wants to be a modern day Luther Vandross. He channels his inner Mantasia and sings Fantasia's "I Believe." It's my opinion that the only person who comes close to doing as well on this song as Fantasia did was Joshua Ledet, and Curtis' performance falls short. The song never peaked and he was off the pitch in parts. Keith believes he picks good songs but has to keep his adrenaline in check. Randy tells him to find something new. This shtick is old. Mariah opposes Randy and says she liked his church number. 2/5
"The pride of Oliver Springs," Janelle Arthur has to find the balance between throwback country and the modern sound that gets radio play. She channels Scotty McCreery to sing Montgomery Gentry's "Gone." It feels like the tempo is dragging a little and while she seemed to have fun performing, there was a little bit of energy missing from the song. She bobbled a note or two, but that could've been because her mouth was dry. Keith loved that she did a song by a male artist and threw some runs into it. Nicki felt she was electric but that the song wasn't the best choice. Randy said the song didn't "lead anywhere." Mariah complimented Janelle on her confidence, but felt the song didn't let her voice shine. 3/5
Devin Velez feels like he's a Josh Groban-Michael Buble' style artist. Jimmy cautions him against pigeonholing himself into that category and says he has contemporary star quality. He chooses Carrie Underwood's "Temporary Home." Devin's issue isn't his voice. The kid can sing. But he keeps choosing slow songs that don't show a lot of personality. Tonight's performance was okay vocally, but it was sleepy. Keith felt like Devin lacked confidence in his song and thought it wasn't a great song choice. Nicki disagreed with everything Keith said. Randy thought he played it safe. Mariah tried to rationalize everything the other judges said and sounded a little like a cheerleader instead of offering anything in the way of a critique. 3/5
Jimmy said that Angie Miller gets a little pageant-y during her performances, so tonight she'll try to tone that down. She sings "I Surrender" by Celine Dion, hearkening back to Kelly Clarkson's Top 4 performance. I see what Jimmy's talking about but I call it "theatrical." Hers is the first amazing vocal of the night. Truly amazing. Keith thought she knocked it out of the park. Nicki said she "personifies perfection." Randy called her performance the start of the competition and gave us an "in it to win it." Mariah uttered one word: "stellar." 5/5
Paul Jolley is an over singer according to Jimmy. He sings every song like he's on Broadway. He too chooses a Scotty McCreery performance, "Amazed" by Lonestar. His performance was kind of boring and he does a weird eye-seduction thing at the camera that isn't so much seducing as much as just weird. He did scale back the vocal runs this week, so that's a plus. Keith loved his song choice and loved that he kept it simple. Nicki finally felt sex appeal from Paul and thought he did the song justice. Randy also complimented him on listening to the critiques. Mariah hopes that hearing the critiques won't make him hold back. 3.5/5
Candice Glover got compliments on her voice from Jimmy. He tells her to be in the moment when she sings and channel the emotion of her song, which is "I Who Have Nothing" by Ben E. King, as sung by Jordin Sparks. From the first note, I'm captivated. She infuses an old-school R&B vibe into the song and takes every opportunity she can to show just how amazing her voice is. I almost stood up and clapped in my living room. Keith had a hard time giving a critique because of the audience's cheering. He says she never gets pulled out of the zone when she's singing and loves that about her. Nicki retires the song from all the airwaves and Idol and says no one will ever top Candice's rendition. Randy calls it the best performance of season 12. Mariah says that she's transfixed when she watches Candice sing. If I could give her more than 5, I would. That was amazing. 5/5
Jimmy's advice for Lazaro Arbos is to make sure he knows his melodies before he starts singing. He picks a number by the Original Idol herself, Kelly Clarkson's "Breakaway." He sounds like he does on every song he sings, which means he's consistent. It was boring and the arrangement ended oddly. Keith asks why he chose the song and Lazaro says he picked it because he identifies with the lyrics. Then Keith tells him that he felt like the song wasn't in Lazaro's wheelhouse and Lazaro says he agrees with Keith. And I am confused. Nicki says this was her least favorite performance of his and that Lazaro can't "let anybody knock [him] off [his] square." Randy thought the song was too big for Lazaro. Mariah said people are falling in love with his courage and vulnerability. 2/5
Kree Harrison gets the note from Jimmy that she needs to practice singing with restraint and that doing so will make her more powerful. She chooses a song previously sung by Carrie Underwood, "Crying" by Roy Orbison. It's kind of haunting and her voice is beautiful. She's got such an amazing range. I'm sort of dying to hear her sing something a little more up tempo, but this sort of song is her bread and butter. Keith says he would buy her record tomorrow if she made one. Nicki says Kree's performance was like buttermilk waffles with Aunt Jemima syrup. And it's actually a serious compliment because she calls Kree's performance "smooth and delicious." Randy calls her voice infectious. Mariah, after rolling her eyes at Nicki, says that Kree can't help but be real when she sings. 5/5
Burnell Taylor tells Jimmy that he wants to be an R&B artist and Jimmy tells him he has to mix it up a little bit to show some versatility. He picks Ruben Studdard's "Flying Without Wings." Aside from the crazy things he does with his hands when he sings, I loved his performance. His voice is really clear. Keith calls him magnetic. Nicki says she loves that song and loves Burnell, but it was just a good job. Randy likes that Burnell puts his own twist on songs and says he's in the zone and "vindicating" for the boys. Mariah loved the melodic choices Burnell made. 4/5
Closing out the night, Amber Holcomb sings the original Idol song, "A Moment Like This." She puts her own twist on the song, but bobbles a couple of notes in a pretty important run. I always feel like she's chewing on her words and isn't enunciating like she should. She's got a set of pipes, but when I compare her to Candice, her performance was clearly subpar. Keith's favorite word is "effortless" and says her performance was beautiful. Nicki calls it the best performance of the night and says her voice is "on another level." Randy says he loves her and that she "blew it out of the box." Mariah says "hashtag: pow." 4/5
I think Angie Miller, Candice Glover, and Kree Harrison won the night. Those three are, to quote Randy, "in it to win it." The other contestants just don't come close to those three when it comes to both vocals and performance. 
The bottom contestants, for me, were Lazaro Arbos, Curtis Finch, Jr., Paul Jolley, and Devin Velez. I hate that Devin is there, but he is. So far, I feel like I know him least, so even though I like his voice, I'm not attached to him. I think Paul could find himself headed home tomorrow night.
What did you think of the Top 10? Which of the contestants was tonight's best?
Miranda Wicker is a Staff Writer for TV Fanatic. Follow her on Twitter.