Ten girls. Two hours. Tons of votes. The American Idol judges are putting the decision in America's hands tonight as the girls of season 12 battle it out in hopes of making it to the Top 10.
The talent among this year's female contestants is arguably at its highest level in years, and Randy believes there's a strong chance one of the girls on the stage will be this season's winner.
Now that America is voting, the TV Fanatic numeric rating system is back. Each contestant will be rated out of 5. Let's get to it...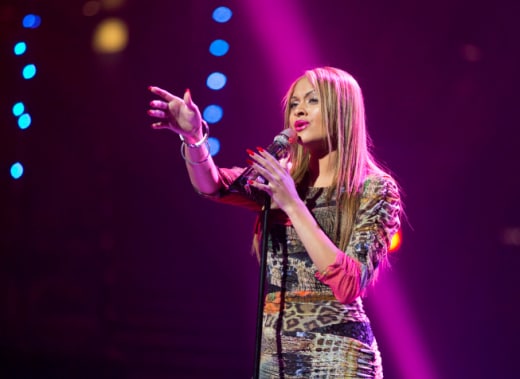 Zoanette Johnson kicks off the night with Tina Turner's "What's Love Got To Do With It." I'll give her this: Zoanette seems at home on the stage. She's comfortable up there. Energetic. But that's the only positive thing I can find in her performance. She sing-shouts, is off key, and belts out a random, crazy note at the end that makes no sense. I'm still bewildered as to why the judges kept her around after last week. Keith called her "joyful, spirited, and unbridled" but said the song didn't work. Nicki drew boos from the audience when she said it wasn't not good. Randy named her the inspirational team leader before telling her it was a mess. Even Mariah, queen of skirting around being critical, told her it wasn't great. 1/5
Louisiana girl Breanna Steer sings Beyonce's "Flaws and All." I was unfamiliar with this song until tonight. Breanna did a nice job with it and actually made me want to check out the whole song. Points to her for picking a song by a current artist when singers on this show tend to go for classics. I feel like she's going to suffer because we don't know enough about her for America to keep her around. Keith loved the song and her performance but hopes that in the future she'll  choose songs that allow her individuality to show through so that she's not always emulating someone else. Nicki disagreed with Keith and said it wasn't a great performance. Randy liked the tenderness in her voice but hated the song choice. Mariah called it a unique song choice because of the simplicity of the lyrics but thought perhaps she made a mistake by picking such an obscure song. 3/5
Aubrey Cleland brings it with "Big Girls Don't Cry." She looks beautiful. Aubrey can definitely sing, and I wish we'd heard more of her up to this point. She has great moments in the song, but as a whole it's not my favorite. There's a bit of a country twang to the musical accompaniment and the tempo feels slower than Fergie's original. Keith said he wished she'd soared at the end of the song but it was a great performance. Nicki's criticism is technical. Aubrey needs to hold her mic away from her mouth sometimes. Randy compares her to Rihanna and dittos the others that he loves her vibrato. Mariah thinks Aubrey has "multi-platinum potential." 4/5
Zumba instructor Janelle Arthur received quite the scare last week when she thought the judges were sending her home. She sings "If I Can Dream" by Elvis Presley. It's a gamble because it's such an old song, but it's so perfect for her that it pays off. The lyrics are beautiful and fitting for this time in her life and Janelle does an excellent job with the song. Her voice is a throwback country voice. Keith called it a "really good performance." Nicki dons a fake southern accent before calling Janelle's the "best performance of the night so far." Randy thinks there's a place for her among those who are longing for an old-school country performer. Mariah said Janelle did what she came here to do and called her America's Sweetheart. 5/5
With a fresh, new hairstyle Tenna Torres belts Faith Hill's "Lost." She has a giant, beautiful voice, but unfortunately for her performance tonight, it was nearly impossible to understand a word she said. Based on the judges comments, however, the lack of enunciation may have been a television audio issue. Keith thought she did a great job but played too much to the camera. Nicki was happy to see Tenna had changed her hair and loved hearing Tenna sing. Randy thought the beginning of the song was beautiful and complimented her on not over-singing it. Mariah complimented her on the song choice and on making the song her own. I'm glad the judges could hear her more clearly, but unfortunately for Tenna, the judges aren't voting tonight. 3.5/5
Angie Miller sings season 11 contestant Colton Dixon's first single "Never Gone." She's back behind the piano which is her sweet spot. Her performance gave me chills. We're not even really into this competition yet, but this might be her season to lose. That was simply amazing. Keith said he loves when she's behind the piano. Nicki sang her praises and wants to buy her album today. (Me too!) Randy loves the honesty in her voice and performances. Mariah called this a great choice for her and said she blew them away. 5/5
Amber Holcombe spent the past two weeks working on her confidence. She must have really developed something to be brave enough to take on Whitney Houston's "I Believe In You And Me." It wasn't fantastic here in my living room. There were runs in places where there didn't need to be runs and she didn't hit the big power notes in the song's bridge. It was kind of sleepy. Keith loved it but said he wished she would have held some of the notes instead of putting in the vocal runs. Nicki loved every moment of the performance. Randy gave his first "in it to win it" of the night. Mariah said she didn't take on Whitney. She paid homage to Whitney. 3/5
The other country girl in the competition, Kree Harrison, also sings Faith Hill tonight. She connects to the audience with "Stronger." There's something pure and wholesome about both her and her voice that I love. She's so un-fussy and the song choice is perfect. She hits some amazing notes and shows a new side of herself. Keith names a laundry list of artists with whom he believes Kree fits and says he always loves hearing her sing. Nicki calls Kree her wife and compliments her on the richness of her tone. Randy is amazed by Kree's display of range and gives us our second "in it to win it" of the night. Mariah says there "is an undeniable thing" that Kree has. 5/5
Adriana Latonia sings Destiny's Child's "Stand Up For Love." In the slower, lower moment in the beginning of the song, she shows her weakness. The girl can belt a big note, but she lacks control in her lower register. She bobbles a few notes and overall, it's not fantastic. It's pageant-y. Keith believes she picked the wrong song and that she's coming after contestants who were just better. Nicki thought the song was too big for her and that, compared to the others, she's done. Randy agreed with Nicki and Keith. Mariah enjoyed her performance two weeks ago and thinks that structurally this song wasn't right for Adriana. She was better than Zoanette at least? 2/5
Closing out the night, Candice Glover admits that she gets nervous before she sings. Once she starts singing, however, the nerves disappear. She starts a haunting, stripped down version of John Legend's "Ordinary People." There's a slow build to the big moments in the song that is flawless. Her range is fantastic and her control on both the low notes and the big ones is amazing. The arrangement was a little loungey, but she sang the pants off that song. Keith complimented her on the soulful quality of her voice and called her performance superb. Nicki saluted. Randy called it "ridiculous" and said she's one of the best singers in the competition. Mariah thanked her for the performance and for sharing her gift with the world. 5/5
One thing's for sure. The female talent in this year's competition is on fire. Based on tonight, it's clear, to me at least, that Candice Glover, Angie Miller, Kree Harrison, and  Janelle Arthur should be in the Top 5. I think Aubrey Cleland would round out the girls' portion of the Top 10 quite well. However, things can and do often go awry when it comes to the portion of American Idol where America begins voting. It wouldn't shock me to see Tenna Torres or Breanna Steer in the Top 10 and either of them would be a welcome addition.
Tomorrow night the Top 10 guys will sing and then on Thursday we'll find out who's vying for the Idol crown. And we'll be here to recap and review it all!
What did you think of the girls' performances tonight? Who are your Top 5 girls?
Miranda Wicker is a Staff Writer for TV Fanatic. Follow her on Twitter.