"Fallen Angel" showed us just how hot Kate could be when paired with the right partner.
In Body of Proof season 2, I hated Kate with Megan's ex Tod. I never felt any chemistry between them and I always believed that Kate could do much better.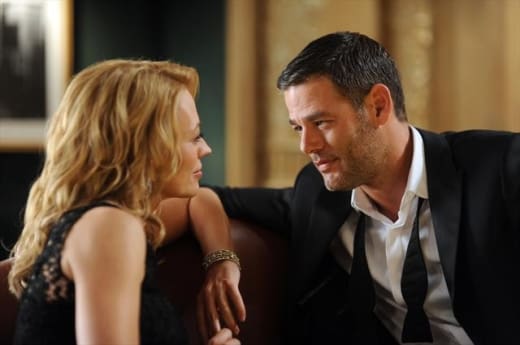 In walked Sergei. He had it all. The handsome face, the body, the sexy accent and the dangerous mystique. The two quickly ended up between the sheets in some very racy bedroom scenes. And between Sergei in a towel and Kate in some fabulous lingerie, there was plenty of eye candy to go around.
But Kate's love life quickly took a turn for the worse as she lamented to Megan in this Body of Proof quote…
Kate: The first guy I like turns out to be a murderer.
Megan: Maybe a multiple murderer. | permalink
Leave it to Megan to be supportive.
The opening scenes of that poor girl crawling in the alley after being shot were agonizing. She'd been through so much and fought so hard. To have her bleed out in an alley was thoroughly depressing. When we saw Sergei standing over her I honestly thought he was the bad guy.
Thankfully I was wrong. Sergei turned out not only to be handsome, but also a hero who risked himself to save the girls caught up in the sex trafficking ring and ultimately Oksana's child. It was too bad he wasn't sticking around a little longer, but then again I don't see how a soldier for hire fits in to Kate's future political aspirations. That could get very messy.
With Kate and Sergei taking the spotlight, there wasn't much room for anyone else. Megan and Tommy took more of a back seat this week, although I couldn't believe Tommy was willing to send Kate back into that hotel room. 
I sided with Megan on that one. If Sergei had been a trained killer, the risk was far too great. I won't even bother to point out the illegality of replanting evidence since they were all obviously willing to look the other way.
This was the second episode I felt we didn't get nearly enough Curtis and Ethan. I hope the next installment remedies that situation. I miss these boys in action. 
I haven't been the biggest fan of Kate's political aspirations this season, so this story line reminded me how likable this character can truly be. Let's hope we get to see more soon.
C. Orlando is a TV Fanatic Staff Writer. Follow her on Twitter.