Well, well. Who knew that Seamus Dever was such the man?
Castle aired the "The Wild Rover" this week, an installment that showed us a different side of Detective Ryan, a side that was pretty amazing to watch. Let's discuss, shall we?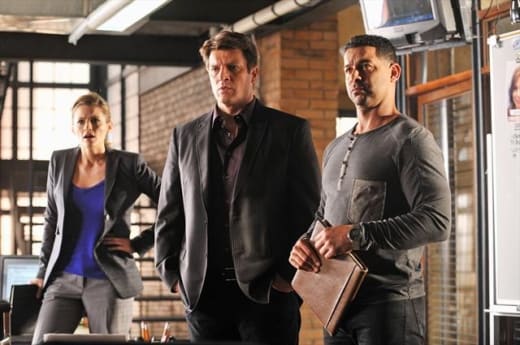 Full of Dough. After the death of a baker involved in the Irish mob, Ryan goes back undercover as Fenton O'Connell. Turns out, he had been undercover in the mob for 14 months. He had a girlfriend and was seriously deep in the crew. He ran out after the Feds started to close in and seven years later he is back there. 
Things aren't too easy for our favorite Irish cop. Doesn't matter, though, Ryan is a total badass and takes the whole crew down.  
As much as I love watching the relationship buildup and the fun weekly cases of the standard Castle episodes, I loved this episode even more. I often think that Espo and Ryan don't get the screen time they deserve. But maybe that's why when they do get an hour to be the center, they excel at it. Remember when Espo saved Kate on Castle Season 4? Dever killed it in this installment, proving that he is one cop not to be messed with.
Seriously, the makeover back into his Fenton ways... hot stuff, Seamus.
Daddy Time. On top of Ryan being the man all hour, he's finally getting what he wants: a baby! Jenny and Kevin are pregnant and they couldn't have been cuter. Plus, it's always nice to have Dever's real life wife pop by.
Side Notes
Gotta love the partnership between Ryan and Espo. Could possibly be my favorite bromance on TV right now. Anyone else agree?
Who wants to see Ryan with that haircut all the time?? Me!
How hilarious was it when they were trying to pronounce Siobhan? 
Ryan also delivered one of the best Castle quotes from the hour: "See you on the other side, brother." Anyone else have instant flashbacks to Desmond from Lost? 
Well, TV Fanatics, the time is here. Deep into the fifth season, Castle will be celebrating its 100th episode next week with "The Lives of Others." It's bound to be amazing, so make sure you are ready to discuss after. For some sneak peak info, check out the TV Fanatic exclusive.
So, what did you think of "The Wild Rover?" Did you enjoy the time spent on Ryan or do you want it back to your regular Castle episodes? Check back later this week for the Castle Round Table and make sure to hit up the comments and let us know what you thought.