Uh-oh.
"Together" utterly confused me. Let me begin by saying that I think I am one of the biggest fans of Girls out there. I relate so strongly to this series and the episode.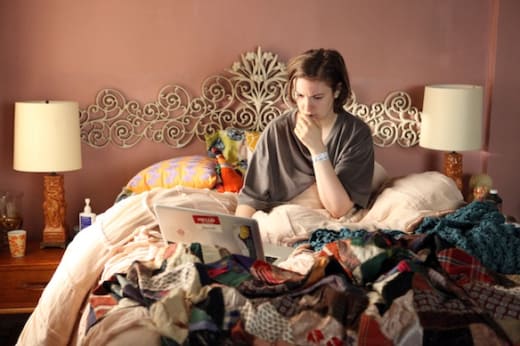 It's clear I'm disappointed and a bit disillusioned by the Girls Season 2 finale.
I'm sure part of tonight's episode was to try and be the inverse of last year's finale. This time last year, Hannah was having her cake and eating it on the beach alone. This year she's being rescued by the man who previously couldn't get away from her fast enough.
Last year, Adam was hit by a vehicle. This year he narrowly missed being hit. Last year, Marnie and Charlie were broken up. This year, they can't wait to build their future and she's having sex at his place for a change.
Last year, Shoshanna was having sex for the first time with Ray, a man she really enjoyed being around. This year, she's telling him to get out of her and get out of her apartment.
Which reminds me: I did love something. Ray's distinction to Shoshanna about negativity versus critical thinking made me wonder about the fine line between cynicism and just a generally terrible attitude. Is it better to avoid negatively altogether? Because Ray's cynicism is what makes him... him. Although it certainly has held him back for a number of years. I digress.
So now everything is flipped. And Hannah is a total wreck. With a terrible haircut. I'm not sure where this is going to leave us for Season 3, but I know I'll definitely be tuning in. Because as much as tonight's finale was cliche and tied up in too neat a bow, I still respect this series and everything it stands for.
Til next season.