Jennifer Love Hewitt Previews Danger, Fetishes and Happy Endings Ahead on The Client List Season 2
Jim Halterman at . Comments
The Client List is back in business on Lifetime tonight - and while there's sure to be drama with Jennifer Love Hewitt's Riley now that she's running The Rub - the show's very adult massage parlor - but other questions also linger heading into the Season 2 premiere:
Has her ex truly redeemed himself? Will Riley's lingering feelings for her brother-in-law go away or heat up?
I sat down on the infamous Sunset Strip with Hewitt and co-star Loretta Devine for the scoop on what's coming in the show's second season.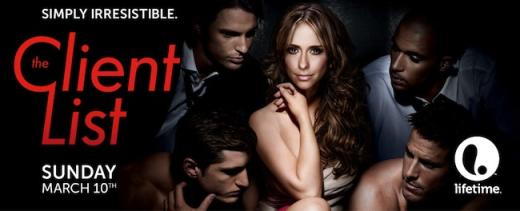 Redeeming the Ex?
Riley's ex, Kyle (Brian Hallisay) is not going to pull another disappearing act, as Hewitt previewed that he wants his wife and family back: "Kyle's not giving up without a fight. I think the audience is going to be surprised about how they're going to change their minds about Kyle. It might be the biggest shocker of the season."
Love Triangle
So if Kyle is, in fact, redeemed, where does that leave his brother, Evan (Colin Egglesfield), who seems to be the perfect match for Riley? "It's interesting to play somebody who actually values the vows that they made," Hewitt said, "even if it's not exactly where they wanted to find themselves." However, she promises that viewers will be just as torn as Riley as to who she should be with: "Sometimes they're going to root for Evan, sometimes they're going to choose Kyle. We don't know who she's going to choose yet."
Danger! Danger!
Now that Riley is the holder of the infamous – and very private – client list, more than a few baddies are going to stop at nothing to try to get it from her. "Lots of danger this year," Hewitt explained, adding of her determined character: "Riley is going to go to any length possible to make sure she keeps that list safe."
Fetishes and Sexy Costumes
Hewitt said she's having a blast with the various costumes that Riley puts on for her clients and that those more fun moments balance out the heavier drama elements of the series: "The other night I was a French Maid, I was a nurse and I was a topless Hawaiian Hula dancer all in the same night at work!"
And watch for more quirky fetishes, such as a client who wants Louboutins walked across his back in the season premiere, along with 90210 hunk Trevor Donovan, who is guesting later this season as a client with a surprising fetish of his own.
Georgia Gets Some Lovin'
Devine's character may be out as head of The Rub  – for now, at least – but she's going to be busy getting some romance this season. "My new love interest is Michael Beach," Devine said, gushing over the former Third Watch star. "I don't know how many bumps in the road are coming but so far it's going well."
Ladies Need Happy Endings, Too
So far we've only see female masseurs working with male clientele, but that's going to change this season when a male masseuse - played by Rob Mayes - joins the spa. "Women should get some, too," said Hewitt, with a knowing smile.
Spark YOUR Sex Life with The Client List
Devine laughed when she talked about how viewers not only watch the show but, perhaps, are inspired by some of the sexy scenes: "Women like to have a glass of wine with their friends or with their husbands and get it on afterwards!"
More Sexy Videos, Please!
"I kinda want to do another one," Hewitt said, glancing at the various monitors playing her sexy second season video during the press event. "We save them for promotion but this one has done so well I may see if I can squeeze some money to do another one."
We're ready, Love! We. Are. Ready.
Jim Halterman is the West Coast Editor of TV Fanatic and the owner of JimHalterman.com. Follow him on Twitter.