Justified Exclusive: Joelle Carter on a Season of Love Stories, The Future of Ava and Boyd

Matt Richenthal at . Comments
Justified Season 4 has centered on Raylan's quest for a promotion, the hunt for Drew Thompson and, as Joelle Carter explained in our exclusive interview yesterday, a trio of unusual love stories.
"There's been Colt and Boyd, Raylan and Constable Bob and Ava and Ellen May," the actress said, turning her focus to the latter pairing and how it has impacted her character on this terrific FX drama.
"Ava stood up for Ellen May because she related to that kind of abuse. That's how she justified killing Delroy… and then she took Ellen May under her wing and wanted so desperately to believe that she could just trust her to keep it secret."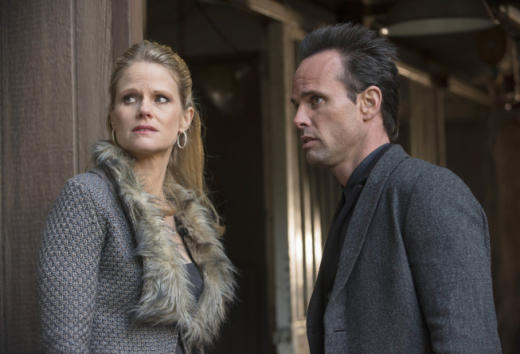 So… can she?
Ellen May hasn't said a word about the incident yet. But previews for tonight's "Peace of Mind" make it look like a possibly fatal confrontation is on the way. If Ava can pull the trigger, that is.
"It's been a big struggle," Carter said of Ava's decision to green light Ellen May's (failed) murder. "It certainly wasn't an easy decision. And now the question will become whether Ava will continue her steps toward the dark side or listen to her moral compass."
There's also the question of Cousin Johnny, who expressed his love for Ava last week and whose traitorous actions were also revealed to Carter's character.
"Boyd is not going to be happy and Johnny is going to be on the run," Carter said of how this triangle will play out. "As far as Ava's concerned? She's done with Johnny."
But she certainly isn't done with Boyd.
The couple got engaged this season via a proposal that just "felt right" for the outlaw love birds, Carter said, referencing the box of cash Boyd presented along with the engagement ring (which star Walton Goggins placed on the wrong hand, Carter laughed).
"The writers have stayed away from making Ava that typical nag in a relationship," Carter said of a twosome that truly seems more content and secure than any on television. "It was important to me that it's clear Ava made this decision… she's fully accepting of who Boyd is and who they are. She's just not sometimes sure she's up for all that this life requires."
So how will this season culminate for the couple?
Carter revealed little - except when it came to Goggins, who she gushed over as "dynamic," someone who fights for both Boyd and Ava as characters and who is "one of the nicest people you'll ever meet" - but did tease that Boyd and Ava may not end the season on the most positive of notes.
"People are really worried about Boyd and Ava... and let's just say they may have reason to be."
Matt Richenthal is the Editor in Chief of TV Fanatic. Follow him on Twitter and on Google+.