A decoy can be defined as anything used as a lure.  Unless you don't have a pulse, Justified's "Decoy" lured you into watching every second from the edge of your couch, chair, coffee table, or what have you.
With pulse pounding stalemates, thrilling fist fights, secrets revealed, subtle wit, and clever solutions to our heroes' problems, this hour of Justified proved once again why it is one of the best dramas on television.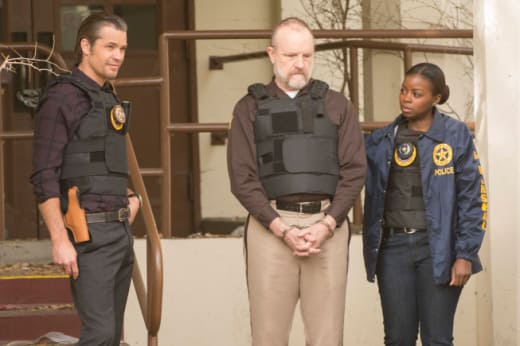 Stay Frosty
Let's begin with Constable Bob. Although the show has always had its own brand of humor, like I said in the season premiere, Patton Oswalt has only added to that in a positive manner this season.  Because his character has been around so sparingly, his brand of awkwardness has been a joy to have around rather than the nuisance it could have become if Bob had been around 24/7.
Maybe I'm biased, because I've heard others who haven't loved him, but how can you not love that guy?  Since he's easy to root for, watching him actually save the day this time around couldn't have been more enjoyable.
Not only did Bob hold out whilst taking that beating, and end up stabbing Yolo to win the vicious fight, he also apparently came up with the plan that eventually got Drew Thompson out of Harlan!  Who ever thought that would happen?  Probably just that kid that Bob put in a coma back in high school.  He knew what was up.
What made it all that much better was how Raylan gave Bob's efforts their due.  First he explained to Rachel what happened by saying "What happened is Bob's a tough son of a bitch."  Then, in a huge nod to Bob's greatness, Raylan tells Bob to "stay frosty."  How great did Bob feel right then?
Circling the Wagons
Nobody circles the wagons...like Tim Gutterson.  While many might only know the phrase as it pertains to NFL Football and Chris Berman.  This was what "circling the wagons" is all about, and watching Tim pull it off was nothing short of magnificent.
While we get to watch him in his element so rarely, we have seen Tim excel like this before, but this seemed different.  He was in a zone!  He just sat there for so long, trying to figure out what the next move was.  And after that hilarious conversation with Colt - the young Gerard Depardieu comment being my favorite moment - Tim knew exactly what he wanted to do, and he did it...perfectly.
Cat Outta the Bag
Another fantastic dynamic was Boyd and Nick.  The fact that Nick has nothing but respect for the way Boyd talks is great.  We as fans love the way Boyd speaks - as Nick put it "using 40 words when four will do" - so it's nice to see a character within the show enjoy it just as much.
Unfortunately for everyone involved, that little get together took a wrong turn when Nick, Johnny, and Ava were left alone.  On a positive note, the tension was so crazy thick between the three of them there for a while that I think Johnny's secret being revealed might not have been the worst thing that could have happened.
If it got any tenser in that bar, shots were probably going to be fired.  Oh yeah, and there was also that "I love you bit."  I understand Ava is a catch, but what is it with the Crowder boys and the lovely blonde?  In the words of Patrick Verona, "She have beer-flavored nipples?"
Down the Home Stretch
Now what happens?  With only two episodes remaining in the season, and Drew Thompson seemingly on his way out safely, what is next for our heroes and our villains?  What do you expect to see in the final hours of Justified Season 4?
What did you think of "Decoy?" Was it your favorite episode of the season?  Or did it not live up to what you expected?  What were your favorite moments?  Who made the best play?  And what surprised you most?
Stay frosty...
Dan Forcella is a TV Fanatic Staff Writer. Follow him on Twitter.