Psych celebrates its 100th episode tomorrow night.
And in honor of the occasion, we've gathered together a list of reasons why we adore this beloved USA Network hit, from Yin/Yang to - what else?!? - Gus/Shawn.
Read along below and jump in with your favorite moments from the first 99 episode of Psych...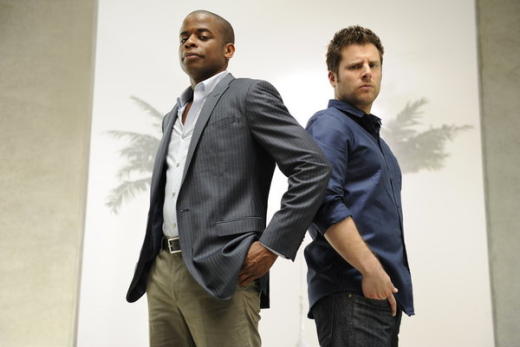 The Yin/Yang trilogy. I have never been more on the edge of my seat during a cable television show, engrossed in the fate of its characters.
The writing pair of Roday and Berman. The minds behind the Yin/Yang trilogy, these two really threw us for a loop with "Yang 3 in 2D." I am still trying to figure out why you made Yin who he was as a person (not just that he was played by Peter Weller). They, too, really indulged the crazies on that one.
Catchphrases like "Suck it," "You know that's right" and further popularizing "Come on, son."
The fact that Shawn is a fake psychic detective - but that's just between us.
Even after 7 seasons, I seriously question whether or not Shawn and Gus have really grown up at all, or if they've just gotten better at faking it in front of other adults.
I love that the writers give the fans a nod when they name characters after them and use their shipper names, like Shassie and Shules, in character dialogue.
Henry and Shawn. They are practically the same person, they just don't want to admit it. To each other, or anyone else.
That Psych really seems to love us fans back.
I can watch the series over and over again and somehow the episodes never get old.
Psych-outs.
All of the guest stars. From William Shatner to Curt Smith, I am still amazed at the talent this show manages to reel in.
Homage episodes. While Twin Peaks will always be my most favorite, I would be remiss to overlook the fact that practically every episode pays homage or makes reference to some other movie or show.
James Roday - actor, writer, director. Jack of all television trades, we can always know that any episode involving horror or the woods has most likely been penned, if not also directed, by this man. He never ceases to amaze.
Celebrity parents. An extension of the A-list guest stars they acquire, the fact they've been able to cast Corbin Bernsen (as a regular), Cybil Shepard, Phylicia Rashad, Ernie Hudson, Jeffrey Tambor and William Shatner as mom and dad to the core set of characters is impressive.
Five random guesses leading to one right answer. You'd think after almost 100 episodes of watching Shawn and Gus flounder around spouting ridiculous theories that we'd just wish they'd come up with one theory and see it through. Come on, son! If they did that, it wouldn't be Psych.
The pineapple. After 100 failed attempts to find the pineapple during the live airing of an episode, you would think one would get discouraged and give up. Not this Psych-O!
Its undying love for the 80s. I have never learned more about the 80s from any other source.
The fact I, too, now love the 80s. I'll be darned if this show didn't have me running around town trying to find The Breakfast Club and Pretty in Pink on DVD so I could stop feeling like a 90s baby (which I am).
Carlton Lassiter. No more awkward or badass cop could possibly lay down the law quite like Head Detective Lassiter.
Juliet O'Hara.  Our little girl is all grown up. From that questionable powder blue suit to the edgy leather jackets not only have we seen her style evolve but we've also watched her come into her own as a woman and a detective. We (and Shawn) love her for it.
Alan Zenuk's behind the scenes photos from every episode. Your still photography is much appreciated. It's even been my desktop background from time to time.
Psych has its own theme song written and performed by the show's creator, Steve Franks and his band, The Friendly Indians, of which several of the writers are apart.
Psych's soundtrack. Adam Cohen and John Robert Wood don't get enough credit for the work that they do on the background music on Psych, though they were up for an EMMY for their work on "Mr. Yin Presents," we don't appreciate just how much of Psych would be silent without their musical talents in the background and during scene transitions.
Popular music. Many a hardcore fan has probably downloaded the nearly 100 tracks that have given their favorite moments all new meaning, from Steve Perry's "Strung Up" in "A Very Juliet Episode" to Band of Horses "I Go to the Barn Because I Like The…."  in "Mr. Yin Presents" our iPods are about filled to capacity.
It airs on Wednesday. Nothing says you can make it through the week than greeting the day with the knowledge that at 10/9c everything will be okay.
Chief Vick. Probably the coolest boss on the planet, she still has me guessing whether or not she knows Shawn isn't psychic.
Psych makes it acceptable to use the phrase "I've heard it both ways" even when you know you haven't.
I am forced to learn something new every week. If I had a quarter for every time I had to re-look up what semantics meant, I would probably be able to pay for college out-of-pocket.
Psych: The Musical. Even though it hasn't aired yet, I am comforted by the fact it has finally been filmed.
Dule Hill. Even though he's not Bud, we still love him and appreciate that he was able to gift us with his tap dancing skills in season five. I also couldn't think of a better person to play Gus. Not to mention he was the first cast member to utilize twitter to keep fans up to date on what was happening when Psych wasn't in season.
James Roday and Dule Hill. Best. Bromance. Ever. On screen and off.
Psych Slumber Party. Even though it only happened once, I don't think I had ever been more excited to wear comfortable pajamas and stay up all night, managing to be alert to the point of tweeting the whole extravaganza. #winning
Three hole punch. I will never look at one the same again, nor will I ever find another office supply as humorous.
The fact that they magically make Vancouver look like Santa Barbara, even though they can't always mask the rain. I will forever be impressed.
The fact that they reference or allude to previous shows and characters that the main cast has played or been on in the past. From L.A. Law to The Guardian, if you ever got too lazy to look them up on IMDB, over time their resumes have most likely been featured on Psych in some capacity.
#SocialSector and #HashtagKiller. If I wasn't so busy, I would totally play them, but I like that they took time and energy to make sure that fans had the option of playing.
Psych Fan Appreciation Day. Probably the best day of my life, I don't know any other show who thanks their fans by renting out a venue and throwing a party for them.
Psych at Comic Con. Though I have never been, I know it's a pilgrimage that many a fan makes each year to San Diego for the purpose of seeing this cast.
The fan fiction. Shawn and Gus just don't live on our television screens, they live on the interwebs, in our hearts, and in our stories, all conveniently housed at psychfic.com, where many fans, including myself, are authors (search Pretty_in_Pink there and you'll see what I mean).
Fan twitter handles. From WinkyCutto to PinkBerryJettaGirl to DinerGuy these inside jokes and references will remain the cyber identities of adoring fans everywhere.
We trend on Twitter every week, sometimes with hashtags we didn't expect. #MexicanLassie anyone?
Psych commercials that feature Dule Hill, James Roday and the cast belting classics like "Don't You Forget About Me" and "Private Eyes" in 30-second spots.
Gus' sympathetic crying. Gets me every time.
"Gus, don't be a… [fill in the blank]" moments.
Shawn introducing Gus with his real name in the presence of dangerous criminals while giving him ridiculous names in front of less dangerous suspects.
Hearing the Psych theme song in Spanish, Hindi, sung by Julie Cruze or interpreted by Curt Smith.
The Blueberry. Enough said.
Every time Shawn makes a speech to Juliet. What girl doesn't want to be the prize at the bottom of a cereal box?
Gus always having to be the body.
The fact that James and Maggie are together in real life. No wonder Shawn and Juliet's relationship plays so genuine on the show!
C. Charles is a TV Fanatic Staff Writer. Follow her on Twitter.