Revolution Return Preview: Bigger, Badder, Better
Jim Halterman at .
The wait is finally over, as the second half of Revolution Season 1 kicks off tonight.
So much will focus on the harnessing of the power of the pendant, but will the good guys prevail over the bad? Is all this heading to a big cliffhanger or will the story be nicely wrapped up?
For a glimpse at what's to come, we recently sat down with series creator (and Supernatural alum) Eric Kripke, who explained some of the overall thinking behind the show's concept as well as what's to come for fan favorite Neville. Read on for excerpts from the Q&A...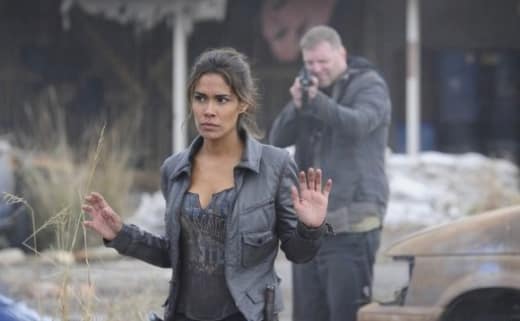 Bigger and Better and Badder "I really believe the second half of the season is bigger and better than the first," Kripke said. "The first half of the season was just a prologue to what the show really is. To really be able to blow the doors off it, really open it up, it's sweeping and huge and every script our production staff gets they freak out because they can't believe how big the show is getting and yet they manage to pull it off."
He added with a smile: "I'm really excited about the size of it, the revelations that'll come and how it's going to be bigger and better and badder."
Watch Out for Julia "She's going to keep nudging him in a treacherous direction," Kripke said of the influence Julia is going to have on her ex, Neville. But they may find some common ground in dealing with one thing: their offspring, Jason:
"They've got the problem of their rebellious son and the whole thing becomes very combustible," added Kripke, telling fans to watch for Neville's story to have more twists and turns. "I think we're going to put that guy through his paces. I think Neville's got his work cut out for him."
What It's All About Kripke knows of the many big concept shows that haven't enjoyed a long life and hopes this one will be different. However, he explained, he has a theory on why those shows failed to endure: "I think it's what separates us from a lot of the other genre shows that maybe didn't succeed. They were about the concept…I don't believe we're about the blackout. I don't believe we're even about the swords and these fights. We're about something that's very relatable to everybody, which is can you keep your family together in a very difficult world? I've been proud of that."
Family Rules While some writers might use a fallback story as an excuse to blow something up, the Revolution staff knows the core of the series: "Whenever we're in the writers' room and we're kind of swimming and lost our compass," Kripke said. "I just keep saying to them, 'What's the family story?' Immediately people start focusing and we're just interested in family and all of its different forms."
EPIC Influences Kripke credits some of the biggest films and literary works for helping shape his series. "For me," he said, "every influence that I have for the show really starts and ends with Joseph Campbell because my influences are Star Wars and Lord of the Rings and Wizard of Oz and The Stand and that's all Joseph Campbell…all Revolution is, is Lord of the Rings in modern day America. So, we're all kind of playing with the same influences."
A Cliffhanging Finale? "I know what the finale will be," Kripke said, "which is exciting because then you can just start moving all the pieces in place to get us there. I think it'll blow some minds. I think it'll really kick off, knock on wood, the second season in a really grand fashion."
But can we expect the typical action-packed cliffhanger or wrapping things up since NBC hasn't picked up the show (yet) for a second season?  "For me, I like to end my seasons in a way that drive people nuts over the summer and make them desperately want to tune in for the next season. That's the way I roll."
Will you be watching the new episodes of Revolution? What are you excited to see?
Jim Halterman is the West Coast Editor of TV Fanatic and the owner of JimHalterman.com. Follow him on Twitter.