No matter the case or current event, it always comes back to Olivia and Fitz. In "Top of the Hour" Olivia found herself as the opposing counsel in a scandal involving the latest Supreme Court nominee Murray Randall, who Fitz had personally vetted.
Of course, Fitz wouldn't need a new Supreme Court nominee quite so soon if he hadn't have murdered Verna, but truth be told she was on her way out. No matter the circumstance, that decision of Fitz's is weighing heavily on him.
He's shutting out Mellie, he's cheating on Cyrus and he's drunk dialing Olivia. Oh yes, Fitz certainly has the booze eyes. Somebody has been hitting the scotch!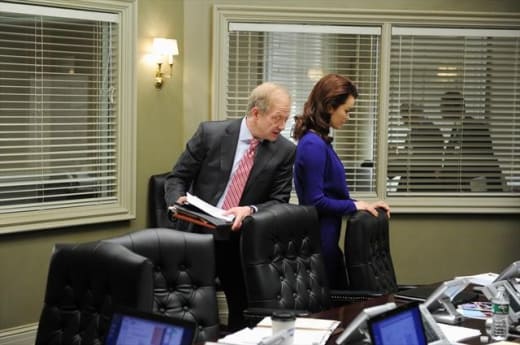 It's been a long Scandal-less month for us gladiators but the addicting ABC drama was back with a brand new case and a deep subtext to go along with it. Olivia was called in to fix things for CEO Sarah Stanner, played by guest star Lisa Edelstein. Stanner was accused of having an affair with Supreme Court nominee Murray Randall. Now, not only did Fitz have to deal with the hostage crisis, but he nominated someone with some serious dirty laundry. 
We all know Fitz has his own dirty laundry but that's not the point. He's got two major Presidential problems on his plate and he's depressed to boot. What can you do? Well, if you're Fitz, you have Olivia saving your ass no matter what.
In the midst of staying at her client's house, Olivia found a way to get the mole's information to Fitz in order for him to solve the hostage crisis. Olivia went to Jake, which is saying a lot. She is obviously starting to trust him. She also knows that he has the power to get to Fitz and make a difference. However, I don't think she knows about the creepy cameras. Speaking of creepy, how gross was Jake's smile at the end when he was Olivia's apartment and mugging for his own hidden cameras? Someone has a voyeuristic fetish!
Fitz doesn't know that Olivia is the one who issued the tip that would solve the hostage crisis. However, CIA director Osborne, who is also the mole, does know that people are onto him. Quinn is screwed. How is it that the insanely talented and brilliant Huck would allow for a mistake like that? He knew Quinn would be photographed at a place like a dry cleaners. Is there a possibility that he did it on purpose? Does Huck have a plan? I'm betting on yes.
The moral of this week's Scandal was that people get lied to and people can get betrayed. All you can do is not let it ruin you. Even if you feel like you are ruined, your love for someone can conquer all common sense. Fitz is a testament to this last lesson.
Fitz: I trusted you, you know. You're all I had. You ruined me, I'm ruined.
Olivia: I'm ruined! | permalink
Fitz is still drunk-dialing his ex-mistress, but there's a new player in the game. Jake knows he needs to cover his steps. He went for the jugular with that photographer in order to get the photos of him and Liv. If Fitz were to see him talking to Liv, if anyone in the CIA were to see him talking to Liv, his source would be in danger. He may be shady, but I do believe he has grown to care about our dear Olivia Pope.
It's hard to let yourself care about people where you're in the world of Pope & Associates. Take Abby for example: she's hurt that Harrison betrayed her but ultimately she knows that being a gladiator is what comes first for him. I do hope these two are able to become as close as they were. They made for a great team and still do. Quinn and Huck are currently the frontrunners for my favorite team at Pope, but you never know!
What did you think of the latest episode of Scandal? After a month long hiatus was it enough to satisfy you? Hit the comments!