Ryan Seacrest promises that tonight's American Idol will bring a surprise that will turn the competition on its head. But first the remaining contestants have to survive this week's cut and go on to sing another song. 
What will the shocking twist be? And who will be left standing? Let's find out now...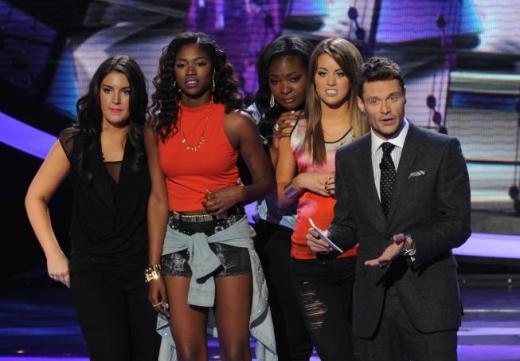 The girls come together to sing Alicia Keys' "Girl On Fire." They each shine individually even if they seem to feel awkward with all the choreography. I can't help but think that Naya Rivera did this better on Glee. This wasn't a song written to be sung as a quartet.
Amber Holcomb's recap from last night is first. Jimmy thought she did a great job on "Power Of Love" but doesn't understand her song choice of "MacArthur Park" at all. Apparently, Amber didn't really understand the song either. Jimmy thinks she could be in trouble after that performance no matter what the judges thought of it.
Up next, Kree Harrison gets her play by play. Jimmy agrees with Keith regarding Kree's vulnerability and thought that her performance suffered because her song choice suffered. "Whiter Shade of Pale," to Jimmy, was another corny song with terrible lyrics.
Returning to the Idol stage, Stefano Langone is singing his upcoming release "Yes To Love." I mean, he filled in 8 minutes of the show. That's pretty much all I can come up with.
Continuing with tonight's purpose, Candice Glover takes center stage. Jimmy thinks Candice needs to protect her voice and that her song choices this week were playing it safe. Then they replayed the incredibly awkward moment last night where during Candice's critique the judges decided to talk to Jimmy about Amber's performance. THEN they rocked her world with a surprise visit from Drake.
From American Idol season 9, Lee DeWyze stops by to perform and plug his latest album. He's playing his first single from the album, "Silver Lining." It's got a country feel but also sounds like "Home" by Phil Phillips, almost like he's trying to capitalize on the most recent winner's success.
Finally, Angie Miller's notes from Jimmy. He thinks she won the night because she chose two great songs and had two great performances. He, like everyone else, believes she's most natural behind the piano and needs to stay there.
Kieran dims the lights and Ryan sends Amber Holcomb to the far side of the stage. He puts Angie Miller on the near side of the stage. Kree Harrison joins Angie and Candice Glover joins Amber.
One of these pairings is the Top 2 and the other pairing is the Bottom 2.
There's still a shocking twist coming.
Candice Glover and Amber Holcomb are the Bottom 2. One of them will be going home tonight. Or not.
Ryan announces that neither of them will be going home.
Because the judges didn't use the save, they have an extra week in the competition. (Except that's not how the save has worked in the past and when it has been used two contestants have gone home during the following elimination round.) 
This week's votes will be combined with next week's to determine the contestant who will be leaving and next week we'll have our Top 3. 
What did you think about this big twist?
Miranda Wicker is a Staff Writer for TV Fanatic. Follow her on Twitter.