David Goyer and Tom Riley Break Down Da Vinci's Demons
Jim Halterman at .
It's a big night on Starz.
First, viewers will be treated to the series finale of Spartacus: War of the Damned, which is immediately followed by Da Vinci's Demons, a new drama Starz probably hopes not only takes over its timeslot, but a bulk of the same viewers.
And while the series does feature its share of violence and sexual situations, fans should expect a different tone for the show, as we learn what the 25-year old Leonardo Da Vinci was like while living in 15th century Florence and rubbing elbows with the powerful and elite.
During my time last week in Florence for the world premiere of the ambitious series, star Tom Riley, who plays Da Vinci, and creator David S. Goyer each laid out how the series came together for its eight-episode run on Starz. Here's the breakdown: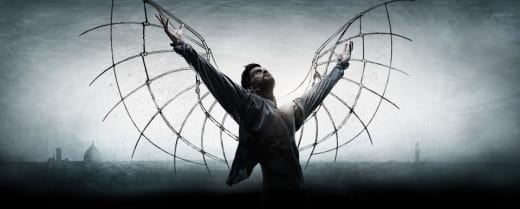 The Casting Of Da Vinci: Goyer explained that he was a bit nervous since they hadn't found the right actor for the titular role…until Tom Riley auditioned, as the producer says he did an "incredible job."
The producers didn't need a familiar name actor for the role, according to Goyer: "I felt that Leonardo, he was the big name so we didn't necessarily need a big name, and, at least in America, no one knew who any of those actors [that] were in Game of Thrones. No one, even Sean Bean. No one in America knew who any of those people were and it didn't make any difference."
How To Play The Greatest Mind In History: Once he nabbed the role, how tough was it for Riley to get inside Da Vinci's mind? "The thing is," Riley explained, "you have to find those elements that are similar. Far be it from me to think that I have any of that intellect or that imagination or that incredible thirst for knowledge but I try to find the similarities in the smaller things, in his perfectionism, in his self-criticism and his self-loathing…those are very human qualities."
Complicated Romance: As played by Laura Haddock, Lucrezia becomes the puzzle that the genius that is Da Vinci cannot decipher. "He meets her and, as we find out, there is something about her that he can't put a finger on," Riley said. "There is something shadowy. For a man who is absolutely fascinated by solving things and making sense of puzzles, she is the ultimate puzzle that he can't unlock."
He added with a grin: "Also, she's a means to an end in that first episode. So, at the beginning they're certainly using one another." Watch for Lucrezia to be just as complicated as everyone else in the series.
Gay? Bi? What's Da Vinci's Deal? It's not lost on Goyer that the controversy over Da Vinci's sexuality mirrors our current gay marriage issues: "We've got a big case in the Supreme Court right now about whether or not homosexuals can be married. We were aware of that as we were doing some of the episodes in our season, which is not to say this is our gay episode, but we were aware of what was happening now, and also aware of what was happening in the 15th century."
Goyer, never afraid of stirring people up with his work, said of the episodes dealing with Da Vinci's sexuality: "I think we'll have some people very happy and some people very angry, and that makes me happy. We wouldn't be doing our job if that wasn't happening."
Tom Riley, Method Actor: Riley did a lot of the art work in the show as well as sword work. But he had an added obstacle to overcome: "Because [Da Vinci] was ambidextrous. I did a lot of work with my left hand. I spent a lot of time trying to make myself as dexterous with my left hand as I could. They wouldn't let me near a sword until I was good enough with my left hand that I wasn't going to kill someone."
And, yes, that is Riley's own sketching in the first episode of the series. "The scene where I'm sketching Laura across the market," he explained, "the art department gave me various stages. Stage one of that drawing, stage three, stage six and I would learn the in-between. So, I'd do the stage two for myself with both hands and then we would try and shoot me doing it with my left hand…it took months."
Faith vs. Science: "I'm alarmed at so much of the world today seems to be anti-science and anti-rationalist," Goyer said, "and that will be one of the things we'll be exploring constantly in this show is this friction between faith and rationalism."
He added, in regards to Da Vinci himself, "not only did he question faith but he questioned other people's scientific accounts, so personally I tend to side more on the side of empiricism and rationalism, but I'm also not just making this show for me. So the show is also about that debate, I guess. "
Da Vinci's Demons premieres tonight at 10 p.m. after the series finale of Spartacus: War of the Damned at 9 p.m. on Starz.

Jim Halterman is the West Coast Editor of TV Fanatic and the owner of JimHalterman.com. Follow him on Twitter.