I (like many of you, I imagine) have been kind of emotionally wrung out by today's events.
As Hawaii Five-0 time drew closer and closer, I knew that I was on a hair-trigger - all I needed was one Danny monologue about how much he loves his daughter, one speech about the real meaning of duty and honor or probably just even McGarrett making a sad face... and the waterworks were going to flow in full force.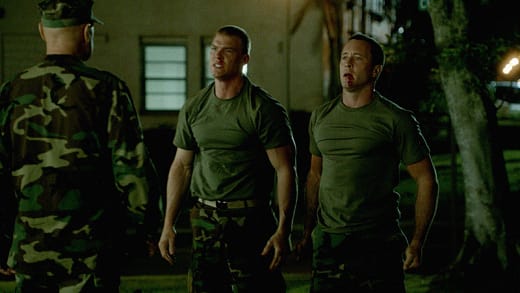 And then, I got "Olelo Pa'a (The Promise)," not only a beautifully shot mini-action movie, and my favorite episode of Hawaii Five-0 Season 3 so far, but an emotionally-wrenching five-hankie weeper.
Within this self-contained gem of an episode, the impact of McGarrett's pre-5-0 existence on his current life was rendered wonderfully and compellingly, with pacing and scene set-ups (not to mention a boatload of dramatic Hawaii Five-0 quotes) that felt more like elements of a full-length film than your typical hour-long TV show.
The episode's wide range of locales - from a rainy Navy training camp, to the North Korean jungle, to a heart-breaking funeral - were not just vividly rendered, but given a great emotional heft. And none of this was just eye candy; from the phenomenal parachute-jump scene, to Steve and Catherine creeping through the thick jungle, this was gorgeous filming with a real purpose.
A lot of the credit for this episode goes to Joe Dante, who directed Hawaii Five-0 Season 2's "Ka Iwi Kapu," but is best known to you/ me/ anyone who grew up in the 80's as "the guy who directed Gremlins."
Dante used great, sweeping cinematic shots, as well as tension-puncturing bits of humor (did anyone else feel some echoes of Indiana Jones and the Temple of Doom's "monkey brains" scene when that bartender made Frank Bama his snake blood cocktail?) to make this feel like much more than just an episode of a TV show.
As the character of Freddie Hart was set up, I was ready to roll my eyes - he just got married? To his high school sweetheart? And she's pregnant? What are you going to tell me next, that he was also just one day away from retirement? But Hart transcended all the 'doomed war buddy' cliches, developing into a real character whose fate was engrossing.
Even though the episode's entire plot was predicated on the fact that Freddie died in North Korea, his death sequence was nearly unbearable to watch; and seemed, in a way, to explain not just much of McGarrett's character, but much of the entire show, especially the emphasis on friendship, honor and leaving no one behind. And isn't that exactly what a prequel is supposed to do?
What did you think of the "prequel" concept? Did you enjoy the peek at McGarrett's past? Did you know that Frank Bama is actually the name of a character in a book written by Jimmy Buffett, who plays Bama?