The Carrie Diaries Preview: Madonna, Sex, The Prom and More!
Jim Halterman at .
Tonight marks the penultimate episode for The Carrie Diaries Season 1 - and things are getting more and more complicated for young Carrie Bradshaw (AnnaSophia Robb).
In "A First Time For Everything", which pays homage to Madonna launching her "Like A Virgin" tour, Carrie is invited to a party for the Material Girl in New York City and brings along Austin Butler's Sebastian. However, she finds herself once again in between her career ambitions and her personal life.
In an early press screening last week at The CW offices, series creator Amy B. Harris and Butler teased both this major installment and next week's season finale...
----------------------------------
Will Carrie and Austin make it? While their relationship hits some big pot holes tonight, Harris says the chemistry between the actors and characters makes it impossible for their journey together to be over: "What I like about Carrie Bradshaw is she can make a lot out of nothing and then sometimes she's looking at it just the right way. It's a journey for her…this is a relationship I want to keep mining for as long as I can."
Competition for Sebastian? "It kind of gets revealed in the next episode how he feels," says Butler about how Sebastian reacts to the conflict with Carrie that erupts this evening. However, don't expect him to rush into old lover's arms like Donna or any new girls in their world. His heart, at least for now, is not moving on from Carrie.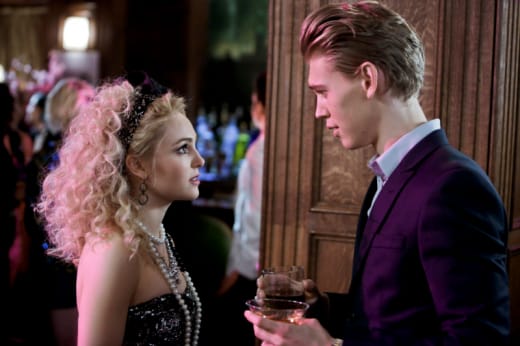 Accidental virgin Yep, that's Carrie, who has yet to take the big leap in the sack. Harris explained it's not merely Carrie being prudish about sex: "While her friends were growing up and friends were having sex, her Mom was getting sick [and] I think she's sort of lost that window that that normally would happen in. I think before you have sex for most girls, it's either it's taking so long you're 'I just want to get it over with' or you still have a romantic vision of what you hope it will be."
Why Madonna? Thinking of the 'Gods' of the mid-80s, it made sense to use Madonna who was launching her infamous tour at the same time. "Madonna was the ultimate then," Harris said. "and I believe Larissa would have known her well and been a part of that circle so it felt really organic…and then we got to use a lot of her music, which was awesome."
Walt's big piece of the finale? He may not be seen in tonight's episode, but Walt's got a big part of next week's finale and there will be a ripple effect to what he goes through. "Walt's going to be forced to face his choices a lot sooner than I think he wanted to and it's going to have some pretty dramatic effects on everybody when it happens," Harris said. Walt will be seeing his crush, Bennett, next Monday.
Prom! The finale is all about that big event for teens and there's a bit of a time jump between the two episodes. "It's a few weeks later," teased Harris, "but [the] big debate is what will happen with [Carrie] and prom?" Don't expect the prom to bring everyone together in a nice happy ending for the season either. "The prom might not actually be prom for a lot of people," Harris added, "not sure what else to say because I don't want to ruin it."
Miranda? Charlotte? Samantha? A character from Sex and the City is a part of the finale but it's not the same one that appears at the end of The Carrie Diaries novel. "We won't meet them," Harris also clarified, "we're just going to hear that that person is going to be around. But we're excited about the idea of starting to introduce some other people from the Sex and the City world into the world for Season Two."
Season 2? What's the gut say? Harris feels hopeful for a second season renewal and has ideas for where our favorite characters will go: "We started with the sort of very innocent Carrie looking at the world and having all these amazing firsts…and all of those moments are huge but I think the fun of it is for season two is after those moments have happened and you've had some betrayals and some hurt along the way, who do you become? I think that's the journey pretty much all of the kids will be going on in season two and finding fun and organic ways to keep New York as a big presence for all of them."
She'd also like the first few episodes of season two to take place in summer before school begins.
The Carrie Diaries airs at 8/7c tonight on The CW.
Jim Halterman is the West Coast Editor of TV Fanatic and the owner of JimHalterman.com. Follow him on Twitter.