When Vegas is on a roll, it can be a heck of a good time and that was the case for "Scoundrels"
Dixon's plight brought out the best and worst in everyone and poor Yvonne was left to stand and watch as Violet once again ruined her night.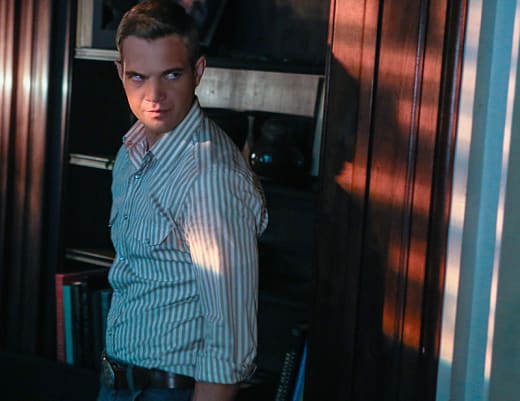 it seemed as though just as things started to come together for Dixon and Yvonne, Violet had to come in and upset their chemistry.  I felt for Yvonne. It's lousy when the guy you like keeps walking off every time the blonde starlet looks twice at him.  
Dixon should have told his father everything that happened in Hollywood the moment Violet accused him of assault so I was happy when Yvonne finally came clean.  Even stupider was when he lied about going to the Savoy that night.  Of course this was 1960, not 2013 when every move we make is captured on video.  If Silver hadn't had cameras waiting to take that photo, perhaps no one would have been the wiser.
My favorite consequence of the entire affair was the interaction between Jack and Mia.  That was the most open she's been towards Jack since the death of her father.  When she offered to help with Dixon, the look of hope on Jack's face was somewhere between heartbreaking and adorable.  
When Mia offered to take things a step further and bring the weight of Chicago down on Silver I had to smile.  The girl knows how to get things done.  
Speaking of which, Mia and Lena were the perfect combination of vinegar and honey.  Watching these two work together is a lot of fun. I hope we get to see more.
But back to Dixon.  Ralph never lost faith in his son and he knew when it was time to protect him, even from his friends.  When Katherine had him arrested, Ralph looked more hurt than angry. 
Katherine certainly proved she had his back during the standoff with Silver's armed security when she told the L.A. policeman in this Vegas quote…
 You can all shoot each other and the ones that die die, and the ones that live can go to prison because that's what happens when you kill someone in front of a prosecutor. | permalink
In the end, I did feel for Violet.  I have no doubt Silver dropped her contract and Violet Mills will become Mary Louise once again, except now with a bruised face and a split lip. Not the Hollywood ending she was hoping for. 
Savino's role was small but fun as the fate of Mr. Purcell took on a Weekend at Bernie's turn. Otis was lucky. They could have just as easily left his dead body in that hole with Purcell as his live one.  At least this way he had the chance to dig his way out.
All in all this was probably one of the most fun episode of Vegas we've seen so far.  Here's to hoping the final three continue the trend. 
C. Orlando is a TV Fanatic Staff Writer. Follow her on Twitter.