Another person will leave us tonight on American Idol and, no, we're not talking about Randy Jackson. We'll go from three girls to the Top 2 who will compete next week for the 12th Idol crown.
But before we get to that point, Lauren Alaina and Alicia Keys are stopping by to perform and Idol judge Mariah Carey will debut her new music video. 
Let's get this show started!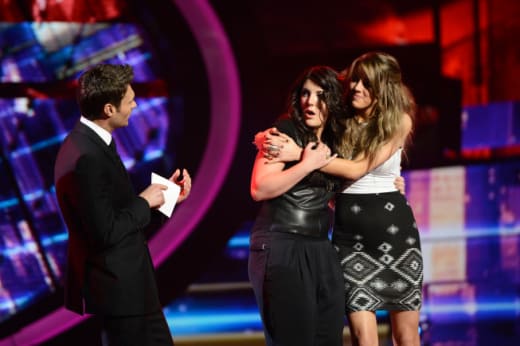 Technical difficulties get the group number off to a rocky start. The girls all persevere and continue singing through the botched sound mixing. It's not a particularly memorable performance anyway, but they showed their professionalism by pushing through.
Jimmy said he chose difficult songs for the girls last night because he wanted to make things challenging for them. He gave Round One to Angie Miller but he was disappointed that she didn't play the piano.
Season 10 runner-up Lauren Alaina is in the house to sing the first single off of her sophomore album, "Barefoot and Buckwild." It's her first foray into songwriting, which is more proof of how far she's come since Idol. The song is fun, rock-country and she looks great. She's really come into her own as an artist in the two seasons since her competition. 
Of the songs from the judges' choice round, Kree Harrison had the winning combination of hometown visit and song and Jimmy gave that round to her.
Mariah has a new song out called "#Beautiful" with Miguel. Like J. Lo once upon an Idol stage, I kind of hate how good Mariah looks after having twins. She told the girls that the goal of the video was to be the "antithesis" of who she is as judge. the video isn't about the outfit and hair. She hugs herself and twirls around so much it's almost silly but the song is okay. Miguel shines more than she does, so he better home Mimi doesn't find out or it'll be off with his head.
Performing "Tears Always Win," Alicia Keys takes a seat behind the piano. This feels like a different sound for her, slightly more Blues than some of her other singles. She knows how to work a crowd from behind a piano so I hope Angie's taking notes.
For the producer's round, Jimmy called Angie Miller's assigned song "safe" and thought it was too current to really showcase her talents. Jimmy thinks the audience wants attitude from Kree Harrison and thought she delivered with "Better Dig Two." Candice Glover's "Somewhere" was the kind of moment every artist longs to have. If she goes home, Jimmy vows to go, too.
The first person competing next week in the Nokia Theatre is Candice Glover. She's so overcome with shock and emotion she has to take a lap around the stage and all four judges give her a standing ovation. 
Joining her next week in the finale is Kree Harrison. KREE IS IN THE FINALE. 
Angie Miller is going home. She looks completely shocked in the live feed while her season 12 montage rolls. Through tears she sings "Never Gone" as her swan song.
What do you think, TV Fanatics? Did America get the Top 2 right?
Miranda Wicker is a Staff Writer for TV Fanatic. Follow her on Twitter.