The Top 4 become the Top 3 tonight on American Idol. After the surprise save last week, the girls understand what's on the line. 
Kree Harrison and Amber Holcomb were the bottom two seven days agoand votes from last week will be combined with this week's tally. Will one of these two ladies leave? Let's find out now!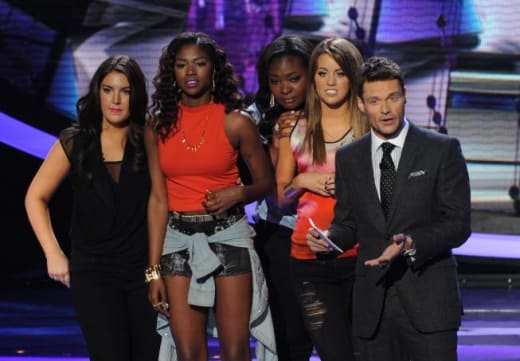 In a little product placement for the upcoming release of The Great Gatsby, the girls sing a Roaring 20's arrangement of "Crazy In Love." This has Baz Luhrmann's stamp of approval all over it. The good thing about the performance is that the only time all four girls are singing at once is during the chorus giving each of them time to shine on the verses.
Jimmy thought Angie Miller had the opportunity to steal the competition this week but made a poor choice with "Diamonds." She didn't take the song anywhere. He felt her second song wasn't great either but wasn't bad enough to send her home. Amber Holcomb sounded karaoke with her P!nk number but she "dug deep" and "crushed" "My Funny Valentine."
Candice Glover took another risk with her Bruno Mars song. A risk so good Jimmy thinks Bruno should get to writing Candice's first single. He didn't think it was her best night of performances but still solid. Jimmy didn't think Kree Harrison lived up to her full potential last night and hasn't in a few weeks.
Season 7 winner David Cook never expected to last longer than a couple of weeks on Idol. His latest single is "Laying Me Low" was released this week. It's hard to have an opinion about it since this is the first time I've ever heard it, but I always liked David Cook. The song's a little slow for the power behind it, I think. Meh. Decent song.
will.i.am, who is also featured on the upcoming soundtrack from The Great Gatsby, sings "Bang, Bang." I am personally so excited for this movie. This isn't helping dampen my excitement.
In music unrelated to The Great Gatsby, Harry Connick, Jr. sings his latest song "Every Man Should Know." It's slow. There are no runs. I'm sure Randy is yammering about how Harry should've done a different version of his very own song.
Finally, we're down to the moment of truth. The 3 girls who are left standing tonight will hop on a plane for a hero's welcome in their hometowns. 
Kieran dims the lights. Ryan's giving results in no particular order. 
The first girl to earn a hometown visit is Angie Miller. Also going home for a visit is Candice Glover. Which means that once again Amber Holcomb and Kree Harrison are in the bottom 2.
The final girl to make it to the top 3, after over 80 million combined votes, is Kree Harrison. 
It's the end of the Idol road for Amber Holcomb. She sings "I Believe In You And Me" as her swan song. Or she tries. She's clearly holding back a lot of emotion and that's understandable.
What do you think TV Fanatics? Did America get this right? Should Amber have been the one to go home tonight?
Miranda Wicker is a Staff Writer for TV Fanatic. Follow her on Twitter.