In the first all-female finals since American Idol season 3, it all comes down to tonight for Kree Harrison and Candice Glover. The season 12 finalists will duke it out in a one-hour songfest - and tomorrow night one of them will become the next American Idol.
Round One is Idol producer Simon Fuller's choice. Round Two will be the single the winner will release. Round Three will be contestants' favorite.
Are we ready to rock? Well, then let's get rolling...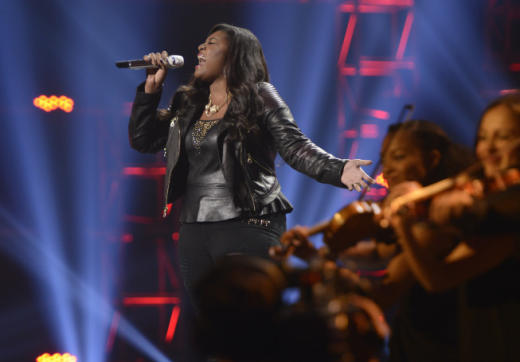 Round One: Producer's Choice
Kree Harrison won last week's coin toss and elected to go first tonight. Simon Fuller chose "Angel," by Sarah MacLachlan. Kree looks amazing tonight, first of all, and this is a beautiful song for her voice. There's a steel guitar in the accompaniment that puts just the right amount of country in the arrangement. Kree's phrasing is enough to make the song sound original and her voice is crystal clear. That was a really nice way to open the night. 8/10
"Chasing Pavements" was Simon's pick for Candice Glover. There perhaps could not have been a better choice for her, but this arrangement adds too much music to a song whose trademark is simplicity during the verses. Candice does some great things vocally to add her own spin to the Adele number. Musically, I wish it had stuck closer to the original, but vocally, there were a lot of fantastic things going on in that song. 7/10
Mariah called them refreshing as artists and Randy said the songs were sleepy and not songs he would have chosen for them. He gave the round to Candice because she did more with her number than Kree did. Mariah loved how delicate and subtle Kree's performance was. I'm giving Round One to Kree Harrison because her arrangement was better and I loved how simple she kept the song.
Carly Rae Jepsen performs the song Idol viewers have been writing all season. "Take A Picture" is...not a great song. Which means it will probably become some kind of summer anthem. Be prepared, people.
Round Two: Idol Single
Kree's new single, should she win, is called "All Cried Out." In the past few weeks I've noticed she does a weird thing with her right hand when she sings. This song is true country. The kind of country Keith has been hoping to hear from her all season. Kree's voice is, as always, unique and clear. The lyrics are great and the song definitely has hit potential as a country single. I wanted to hear more of it which is a good sign. 8/10
Candice's song is called "I Am Beautiful." There are strings in the arrangement so I'm hooked instantly. When Candice gets to the first chorus the song goes from great to amazing. She can sing anything and she certainly sings the pants off of this. The message is one that will resonate with girls so the potential is there for this to be a good release for her. 10/10
A couple of notes about the Idol singles. I'm exceptionally glad that contestants are no longer forced to sing the same song and that songs are written which work for the contestant as an artist. Similarly, one of the wisest choices that has been made regarding the Idol single is to write a song that sounds like something on the radio that is not a song about a single moment in time. Those songs were great in their own right, sure, but they had the hallmark of being about Idol. Phil Phillips' "Home" has had such great success because it sounded current and fit in the landscape of modern music.
Nicki loved Kree's composure during her performance. Nicki felt that the message of Candice's song was perfect given her performance from last week. Keith thought the songs were tailor-made for the contestants. Keith gave Round Two to Kree. Nicki gave it to Candice. I'm giving Round Two to Kree Harrison for the song and to Candice Glover for the vocal. I know, I know, they can't both win. But both of their performances were equally good, but Kree's song has more radio-play potential.
Round Three: Contestants' Choice
For her final performance of the night, Kree Harrison is reprising "Up To The Mountain" which she sang in Vegas week. This is her best performance to date on this show and it couldn't come at a better time. The emotion is there. The vocals are there. THAT is how she got this far. Keith called it beautiful and loves the spirituality and soulfulness she's able to tap into. Nicki found the energy of the song uplifting. Randy said it was a winning performance and her best of the night. Mariah loves Kree's diversity. 10/10
Candice Glover chooses to sing "I Who Have Nothing" once more. She begins it a capella and it's positively haunting. By the time the lights come up and the strings come in, I don't want the song to end. Candice has this amazing lower register as well as the power to belt out some notes that are just crazy! She left everything she had on that stage. Keith calls her a powerhouse singer and said the song was like a planet exploding. Nicki loved Candice's comfort with the song and confidence with her performance. Randy said she shot the night to another level. Mariah  believes that Candice can make any song a "vehicle" for her voice. 10/10.
The breakdown tonight:
Kree Harrison--26/30
Candice Glover--27/30
This is the kind of season that can go either way. Between Kree and Candice, I don't think there's a clear winner. Candice has vocal abilities that are just beyond amazing. Kree's voice is so unique and pure. Regardless of what happens tomorrow, this is only the beginning for either girl, that's for sure. 
We'll be back with the results of American Idol season 12 tomorrow night, but for now, tell us, TV Fanatics: Which girl do you think will win?
Miranda Wicker is a Staff Writer for TV Fanatic. Follow her on Twitter.