"That Girl Strikes Again" was a large Jenna Hamilton character study wrapped up in to 20 minutes of feel good comedy.
As I feel I say in every Awkward review, I'm continually surprised at how well this show can cram comedy, characters and relationships every week. Jenna is a bit of a stereotype when it comes to young women on TV shows: she's insecure without really needing to be and she's continually trying to redefine herself in areas she's thriving in.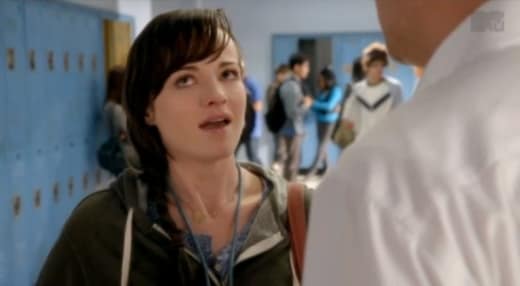 She is very much a stereotypical character on television because she defines herself almost completely on what others think of her, and the series is continually taking small baby steps to break her (and those around her) out of that shell. While it might be a stereotype, it's also very true of the high school experience. Jenna's entire social life has been public consumption since she "tried" to kill herself and later released her blog.
Having that big of a spotlight is enough for anyone to be insecure, but Jenna is a smart and quick-witted. All she needs to get past those insecurities is taking some Tamara advice: put your hater shades on.
Like the party she crashed, she didn't need to be anyone other than herself. She would eventually find people who had fun around her without Jenna needing to redefine who she is. She got two of the high school's most eligible by being herself after all; however, dropping into the faux-suicide into the conversation is also simultaneously disturbing.
It's all part of the baby steps process. Jenna fit in a crowd by being herself, but being herself meant she had to use a pretty dark time in her life with the carefrontation letter and the repercussions of it.
Other thoughts:
The bedpan gag in Val's office is the best physical comedy Awkward has every done.
Does it feel like Jake and Tamara get even less in terms of screen time now that they are together or is it just me?
High Jake.
It feels like Awkward Season 3 is setting Matty and Jenna up for failure.
This episode felt so empty without Lacey.