"Dark City" featured everyone floundering in the dark in more ways than one, as Megan and Tommy continued their complicated dance.
Speaking of which, was anyone else tired of hearing them both say, "It's complicated" or was it just me? This took place every time someone got to the point of explaining exactly why they were interrupted, leaving the audience frustrated by the lack of information.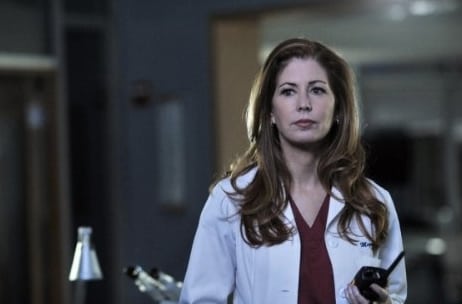 We know that Tommy cheated on Megan, but it's about time we learned more details about what was obviously a passionate but disastrous affair decades earlier. 
As much as I like Charlie, I was thrilled that he and Megan's late evening out was disrupted, even if it was by a plane crash. 
I'd like to see Charlie stick around, just not as Megan's love interest. Perhaps he could help pull Kate back from her descent into political success and personal catastrophe.  Adam was right. Every week we witness Kate's moral compass become more shaky. 
Back to the plane crash: I never suspected the flight attendant. Talk about poor judgment. She drugged the one armed person on the plane. Maybe she should have read up on the possible side effects of that medication she was taking.
And Megan was right. How desperate was her husband to retrieve those drugs if he sabotaged a generator, stole a body, butchered it and then shoved it into an elevator shaft?!? That couldn't have been quick. Didn't anyone notice him missing?
I was grateful to get some more time with Curtis and Ethan. His obsession with apocalypse prep was funny, but I still don't see how that could have helped him fix an industrial sized generator with cut wires.
When he hurt Ethan with the celebratory chest bump I had to laugh.
At Megan's home I was proud of Lacey for confronting her grandmother - and although Joan's speech about moving on sounded good, I'm still not convinced she's not hiding something about her husband's death.
But back to Megan and Tommy: It was satisfying to witness Megan realize how she's treated Tommy recently in this Body of Proof quote…
Megan: I know exactly what my last words to him were and they weren't poetry. They were trite, flippant and now I might never see him again. | permalink
Nothing like a near death experience to put things in perspective. As Megan stood there telling Charlie what she had planned, I knew it would never happen. Of course that didn't mean some naive little part of me didn't want to see Megan march right in and drag Tommy away from Riley. 
With only a couple of episodes left until Body of Proof season 3 finale, I figure they will make us wait for any type of relationship resolution. I've got my fingers crossed for a happy ending. These two characters deserve it.
C. Orlando is a TV Fanatic Staff Writer. Follow her on Twitter.