"Risk Management" contained one of the a plot twist that I DID NOT see coming. At. All.
In my short review of this episode, I'm going to attempt to contain my excitement, shock and fangirlishness. Hats off to the writers, though. I mean, they know what they're doing.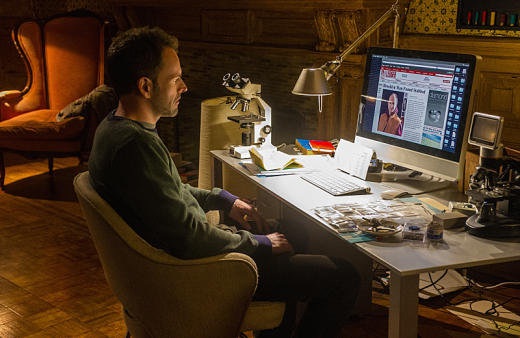 First off, WHAT THE HECK! I am so floored right now that I cannot grasp what I just saw. Let me give you a quick recap: Moriarty directs Holmes and Watson to an old home where they walk through, room by room, and follow the music and find a woman painting.
Who was this mysterious woman? IRENE ADLER!
I did NOT expect the twist of Irene being alive and in New York. Now I have all of these questions and theories about the life and alleged death of Irene. This is how you do plot twists and make good TV. I'm so impressed right now.
I try not to speculate too much with the shows that I watch because I enjoy being floored when things like this happen. I like being wide eyed, mouth open, gasping at the reveals. It's so much fun to be completely invested in a great series.
Another thing that needs to be added, once again: Johnny Lee Miller killed it in this episode. I felt the struggle that Sherlock faced when having to solve this case in order to find out more about Irene. The last scene where he is quivering, so overwhelmed with sadness and shock? Wow.
I didn't care so much for the case because I was ready to get to the last 10 minutes for some sort of reveal that I knew had to be coming.
To top things off, Joan was a badass; from calling Gregson out about being worried about her because she was a woman to telling Sherlock off being they entered the mysterious house.
Joan is really stepping up to the plate and is becoming one of the strongest woman on TV. That remains one of my favorite aspects of this drama. I really look forward to seeing how she reacts now that Irene is going to be back in the picture.
Overall, I obviously loved this episode and everything it had to offer, especially the reveals. Next week is the two-hour season finale and honestly, I know I'm not ready for it, but I cannot wait.