It's hard for me to describe "I'm Moving On," so I'll just re-title the episode to "The Hot Mess." Or maybe even I'll name the show that.
I'm so disappointed as a viewer right now and that's upsetting because I enjoy Hart of Dixie. This is meant to be the series that makes me happy, that at the end of the hour I melt over due to its cuteness. But not anymore.
From break ups to online dating, it seemed that tonight's episode was all over the place - and I don't mean that in a good way. Hart of Dixie is going so far off base that I'm not sure it can ever return to what it once was... even with that season three renewal news.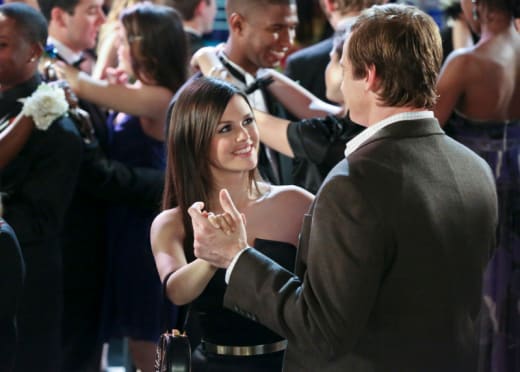 This week did accomplish one thing: we finally got the legitimate Lavon and Lemon scene I've been dying for. Maybe it's just me, but it seems that they're hinting at feelings still bubbling inside of them. Annabeth anyone? Lavon is "allegedly" SO in love with Annabeth that the Lemon/Lavon ship has sunk. Which is one of the hardest things to grasp; those two were the couple I was betting on. I don't know anymore.
I read a short review of tonight's episode on Tumblr and the user said "Hart of Dixie is the first show I've seen where they managed to reverse a character's growth so efficiently that Zoe's becoming more vapid by the episode" and that's completely right.
First, George picks Zoe over Lemon, but Zoe picks Wade over George. They have major relationship issues. Wade cheats on Zoe. They break up. Zoe pines for George. Tells George how she feels. Zoe backtracks telling George. George breaks up with Tansy for Zoe. Zoe sleeps with Wade. Enter part two of this never ending cycle.
I am so sick and tired of this love triangle. How can George and Tansy be so in love, even moving in together and then in the following episode just be over? How do the writers expect us viewers to keep up or even enjoy it? They've tainted the Wade and Zoe relationship with the cheating scandal. Zoe always seems to pick Wade and George always ends up running after her.
I'm exhausted keeping up. This episode was titled "I'm Moving On" and the end of the episode Zoe was shown going back to her ex. Was the title suppose to be ironic?
I'll end of a good note: the best part about this episode was that Rose was back and so was her cutie boyfriend Max. I love Rose and I miss her character dearly when she's gone, so I hope she becomes a series regular in season three.
On to the finale next week. I guess we'll see how much they shake it up. Or not.