Awwwwwwwww yeeeeeeeeeeeeah!
Shawn and Gus of Psych took over the radio waves this week to solve the murder of their favorite DJ in "Dead Air."
They've been on reality television and Spanish telenovelas, so it only made sense that their next venture in the world of entertainment would be this medium.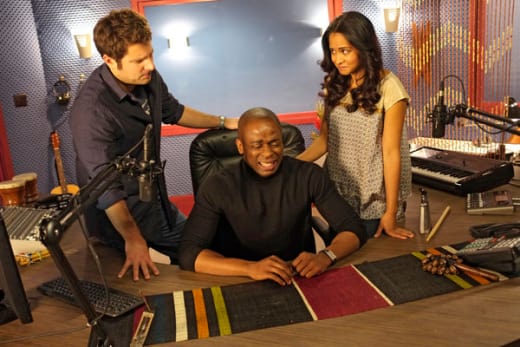 If there's one place these two don't belong it's behind a mic. From airing out their dirty laundry to attracting stalkers, Shawn and Gus had their hands full... though I'm sure we'd all agree that it was Gus who had the most on his plate!
Gabrielle Beauvais was hilarious as a fierce female Station Manager - if only her character had left Gus alone. It was pretty entertaining to watch him try and fend off a woman so clearly infatuated with him. It was only made better when she confronted Rachel, who had come to the studio to see Gus. Who knew we'd get to see a scuffle between these two ladies?
I have to say, I am little worried about Rachel and Gus. With Rachel leaving for six months, her final moments together didn't leave me with much hope. It really felt like a breakup. Then again, maybe the writers didn't have any plans to keep her on any longer and needed a plausible yet not too obvious way to let Rachel go. It's been a while since I've heard the story about an expiring Visa that needs renewed. I actually bought it. I only wish we could have gotten some more concrete closure between the two whatever way their relationship is going.
Speaking of concrete closure... what is up with Shules?! First they are accidentally sleeping together; now they are showing up as part of a double date with Gus and Rachel at Henry's for a barbeque.
If I remember correctly, Shawn and Juliet haven't even officially ended their argument over him being psychic and lying to her about it. After the way they played Juliet's anger as an entrenched character hangup, I was pretty sure they were going to have to have a real sit down conversation about the issue. Now it's as if Juliet is completely fine. Maybe the talk is still in the future, but I still can't help feeling like I missed something.
Loved the multiple-personality disorder angle and the obsessed fan with regards to the case. She was seriously crazy and did you catch that they were calling fans of Crock Pot's show "CrockOs?" Perhaps a play on their nickname for us beloved Psych-O's? I definitely got a kick out of her cult-like obsession with Crock!
Props to S.K. Patterson and company for another fun episode!
Other highlights:
Carlton cracking on Crock's old partner for using his radio voice as his actual voice.
Gus taking Bob out with a glass bottle. It's not the first time he's had to knock someone out in his apartment with a glass object!
Shawn talking to Juliet as if she had brain damage. Priceless.
Shawn prank-calling his father, and Henry cussing up a storm over it.
Shawn prank calling Gus from inside the building.
Rachel and Juliet getting a little bit of girl time, though I could definitely use more in the future if time permits.
A player names Gus. Enough said.
Shawn and Gus take on plastic surgery next week and Laurie Loughlin guest stars. Looks like another gut-busting installment!
C. Charles is a TV Fanatic Staff Writer. Follow her on Twitter.