In  shocking turn of events, Shawn became "The Santa Barbarian Candidate" this week on Psych.
Not surprisingly, it led to some pretty serious shenanigans that made this hour another in a long line of winning installments.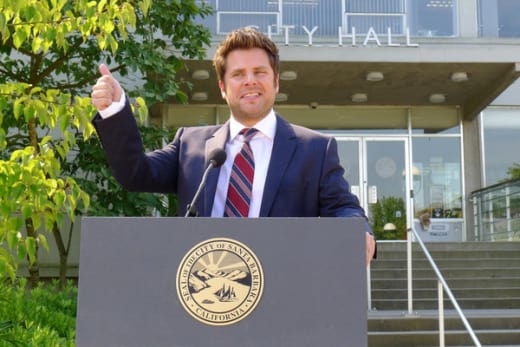 I think we all knew from last week's preview that Shawn would be running for mayor. What I didn't expect, though, was for him to have already been behind the podium and making speeches within the first three minutes of the episode. Clearly I underestimated Shawn's candidate potential.
Even though Shawn seemed to be experiencing some rather epic success on the campaign trail, his love life is still at a standstill with little baby step gained every day. It was very interesting to see these two worlds collide.
Where Shawn seemed to do well at the Founder's Gala, especially after his dance with Juliet, that same dance produced even more feelings than even I anticipated and ultimately an ultimatum which could have cost Shawn - and Gus - everything. So let's talk about that for a minute.
Every week since Shules broke up I've taken a minute to analyze Juliet's psychological hangups. But, if I'm being completely honest, it's been pretty spot-on and it's definitely helped us get a better idea of where Juliet's progressively at in terms of getting back together with Shawn.
So, Shawn admitted that he'd lied to Juliet on one other occasion, apparently trading a man-date with Gus over dance classes. Yet, in a very un-Shawn like twist, it turns out he actually ended up going to take the class without her because he felt bad.
This ended up causing Juliet to end their dance in favor getting some space behind a tree. This is intriguing to me. The minute he tries to attack his lies right on, she runs. I think it's a mix of the fact she really loves Shawn, and particularly that Shawn had surprised her in a way she didn't expect, but she's so set on still placing that boundary between them over the fact he lied about being psychic that she runs every time she catches herself falling for him again.
I love that Juliet admitted she loved Shawn, but was pretty ambivalent about the fact she decided they still weren't getting back together. I know that she's upset, but the whole needing to build trust back thing is starting to feel forced, especially when it's clear that she still adores him and wants to be with him very much.
The fact Juliet gave Shawn the ultimatum about telling the Chief was probably my most strident indicator that Juliet was placing a wall between her feelings for Shawn and the reality of his deceit. But Shawn really challenged her commitment to that ultimatum when he came to the station to tell Karen the truth.
Juliet's decision to intervene really exposed her feelings for Shawn and put her in the line of fire in a way I didn't expect. The Chief came down on them both pretty hard when Juliet barged in with that lie about the illegally seized evidence. That was pretty hardcore. I didn't want Juliet to be in trouble like that, but the work that it did for her relationship with Shawn spoke volumes.
Chief Vick deserves some love here, too. She has fully committed to the idea that Shawn is a psychic and won't here Shawn tell her anything different. I always thought Kirsten Nelson played the Chief as knowing but maintaining plausible deniability and I think her actions in this episode reaffirms that interpretation.
That said, I think Shawn's campaign deserves some attention.
Aside from demonstrating himself a formidable political opponent, that image would not have been possible without the diligent work of his campaign director, Gus.
Gus really had his day this episode. Between all the Holes and The West Wing references, Dule Hill was on full display. He made a great campaign manager. If only Shawn had stuck to the script during his Sun Up Santa Barbara interview.... Well, at least Woody was on board with Shawn's platform!
Oh, well, when Gus really had to throw the election, he apparently went all out. I really wish we could have seen the foot fetish TV spot. But the one we did get to see was pretty rich. Shawn sees babies crying and city destruction, and paid for the ad himself. Very crafty, Gus.
So, it seems we have a crafty political machine on our hands, but next week it look's like Shawn and Gus may be the number one suspects in a murder investigation. One wonders how they will get themselves out of that one.
Any ideas?
C. Charles is a TV Fanatic Staff Writer. Follow her on Twitter.