So we've finally made it to the end of this much anticipated fourth season of Arrested Development and it only makes sense that it would focus on George Michael and his father.
I went into "Blockheads" with high hopes and sadly was let down with an episode that was full of story but not much of the humor and wit that has been a trademark of the series.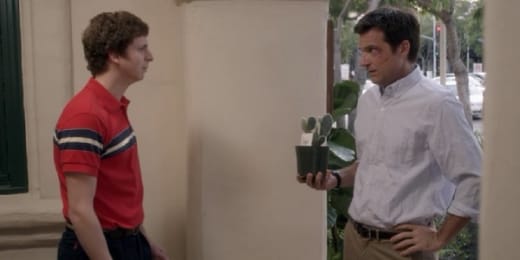 With the beginning of this episode we are back to Michael and George Michael on the phone. I'm a little amazed as to how much screentime this one conversation has garnered and even more so that someone thought it was a good idea.
It was perhaps funny the first time, but by the time we get to "Blockheads," I've reached the point that I never want to see either actor on the phone again.
Yes they added more to the conversation, but much like everything else that's been done from various viewpoints there hasn't been enough information added that makes it seem like we just HAD to see it from so and so's perspective.  
After the fallout over Fakeblock, a la The Social Network, P-Hound tries to mend fences with George Michael who isn't having any of it thanks to one of the best laughs of the episode.
Apparently P-Hound took a picture of Maeby brushing her teeth. We all know how sexy and alluring that daily task can be so of course George Michael would be upset that P-Hound is infringing upon his cousin's privacy like that. 
The whole situation with Rebel Alley seemed to be, at this point, nothing more than a means to an end. A very popular comedy tool is giving the audience a certain "in the know" perspective. The audience knows that father and son are dating the same woman and they also know that up until a certain point in "Blockheads" they aren't aware of each other. That is why things like the photobooth and the constant discussions of "the other man" are funny.
It might have been better if they'd started that later in the season because like many of the long drawn out jokes, it was a little old by the time we got to the end. However, it did allow for a lot of plot to be filled in including how George Michael ends up buying a house, how the sex offenders end up moving out of Sudden Valley, and, in part, how Maeby ended up being fired from Fakeblock.
Was it any surprise that Gob's actions are what prompted the rioting at Cinco? Or that he hired a Mongol horde to build a wall?
So Mongols hired to build fake wall end up rioting after being mistaken for another ethnicity and then incite a separate riot leading towards the call for a real wall to be built.
All in a day's work for Arrested Development season 4.
Overall this episode was okay. It wasn't spectacular yet it wasn't awful. I do think it was the worst victim to the new storytelling engine because they didn't have the fluid character interaction to propel the action forward instead leaning a lot on the narrator. It might have been the same amount of narration as the rest of the series but it seemed like we heard a lot more of Ron Howard in #15 than any other time.
"Blockheads" seemed to be filling two purposes: one, wrap up loose ends as much as they wanted to and two, move the story in such a way that another season and/or movie is inevitable.
I can't imagine leaving the show hanging as it did. Michael and George Michael's relationship is obviously unresolved. Will the wall be built? Who killed Lucille 2, and what will come of Fakeblock?
Hopefully we won't have to wait another 8 years to find out.
What did you think of "Blockheads?" Were you underwhelmed with the episode? With season 4? Check out our Arrested Development quotes page and come back later this week for our very first Arrested Development Report Card!
Amanda Denton is a guest contributor for TV Fanatic. She'll Tumblr for you, or you can catch her talking television at Grizzly Bomb.