We love our favorite TV characters. They're beautiful and charming. They have brilliant careers. They even manage to live in spacious lofts in New York City on a cop's salary. But sometimes even the smartest characters lose their ability to string together intelligent thought when it comes to love.
Here at TV Fanatic, when we see our favorite couples headed for disaster, we feel it's our duty to step in and help. We've already done our best with Olivia Pope of Scandal, Tony DiNozzo of NCIS, Dr. Temperance Brennan of Bones and Emma Swan of Once Upon a Time.
Now it's time for us to write a better ending over at Castle.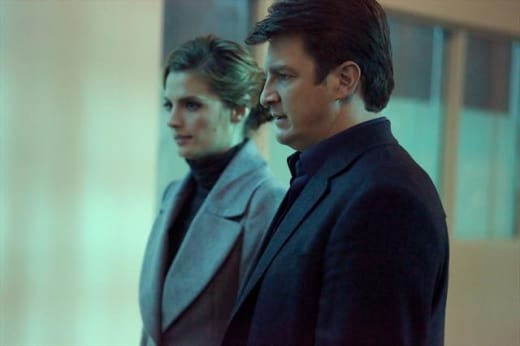 Rick Castle and Kate Beckett have had amazing chemistry from the moment they met but they seemed determined to stand in their own way.
In the beginning, Kate thought Castle was an arrogant jackass who just wanted to get in her pants…and we can't say she was wrong. But Rick Castle quickly became enamored by the smart, driven, beautiful woman who made him strive to be a better man.
Fast forward four seasons and these two finally took the plunge to become the Caskett couple we love. You'd think it would be clear sailing from here on out. Ha!
Although progress was made, Castle and Beckett's insecurities and inability to talk about their feelings remained the cause of as much trouble as ever.
After four years of pursing Kate Beckett, Richard Castle is terrified. Deep down the charming, confident, best selling author is scared to death that if he pushes too far, the woman he loves will run.
In return, Kate has always been afraid that the famous writer would eventually get bored and move on. Unfortunately, Castle's fear of asking for more has left Beckett believing he's not interested in building a future with her.
The common denominator here is fear…and for two people who have quite an impressive vocabulary, their inability to articulate their fears has lead to nothing but heartbreak.
Which leaves us at "Watershed," the Castle season 5 finale.
Yes, Kate screwed up big. Interviewing for another job, in another city, without discussing it with her lover was wrong and her fears have become a self fulfilling prophecy.
When Kate finally got what she'd always wanted, a stable, loving relationship with Rick Castle, she'd convinced herself she was going to lose it all. That he'd get tired of the dance and walk away.  So, consciously or not, she decided to protect herself. Because if she left him first for a job that would fill every minute of her life, then maybe she could survive the loss.
When Castle realized that Kate wasn't sure of what he wanted, he decided to make it clear. He got down on one knee and proposed.
What sounds like the perfect, romantic ending was really anything but. With both characters so dreading a possible break up, the proposal came across as sad and serious instead of the romantic and joyful moment fans had always hoped to see.
Should Kate say yes…or no? Honestly, the answer isn't as important as everything else that needs to be said.
Castle and Beckett have made subtext an art form but eventually you have to say the words, admit to fear, and make yourself vulnerable…because that's the only way these two can truly move forward and become the couple we know they're destined to be.
We at TV Fanatic prescribe some honest, uninterrupted sharing for our favorite dynamic duo. Then perhaps Castle and Beckett can get back to the romantic fun and flirty banter we so love.

Your turn, Castle Fanatics. How should Kate Beckett answer Castle's proposal?
NOTE: Don't forget to check out our Castle Season 5 Report Card.
C. Orlando is a TV Fanatic Staff Writer. Follow her on Twitter.