When the aliens arrived, the lives of all on Earth were changed forever. In "At All Costs," individuals were forced to deal with specific life-altering issues brought on by this new species.
Ben and his formerly harnessed friend had to decide whether to completely remove the harness along with its costs and benefits. Anne found out that Alexis isn't entirely human, while Hal was being controlled and transformed. And even Tom, Cochise and their group that visited President Hathaway were forced to make a choice, though on a different level.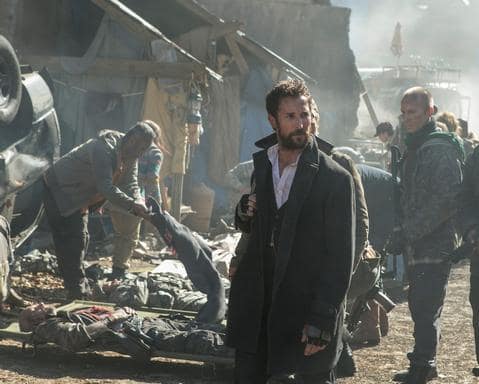 Falling Skies is no longer simply about the two sides fighting against each other with ammunition. Or, simply surviving to take back the planet. It's become much more complicated than that as the aliens have infiltrated the Humans resulting in an altering of the Human species.
In the past, Tom had a pretty good grasp of what was going on around him by following his instinct. Even though, he appears to be justified in his unwavering alliance with the Volm, there's just something off about that situation. I worry that Tom is being played all around. Perhaps, I'm getting that sense due to his narrowed focus on his new leadership position. The people around him are faltering and he has little to no clue.
Even though he knew that something was wrong with Anne and Alexis, he barely gave them a thought before running off to see President Hathaway. Yes, he previously asked Lourdes to look after Anne, but he never followed up after that. And, his disregard for that situation put his family at risk. Anne's a loving mother who's concerned for her daughter. That's driving her actions for good and bad.
What would you do if you found out your baby wasn't entirely human? Anne's decision to run was misguided, yet I understand why she did it. In her attempt to protect Lexi, she instead took her baby girl out of Charleston's protection and right into the alien's hands. The alien baby is an odd storyline that I'm not sold on at this point, but I'm definitely intrigued by the why and how of it.
When "Hal" showed up to circle Anne and Lexi with the harnessed girl and the Skitter, Hal's situation became much more interesting. I still don't believe that Hal is the mole, but he's clearly being controlled by another force. Who is controlling him? And, what do they want? I doubt that it's Karen's essence controlling him. Instead, my bet would be on another Alien being that's in cahoots with Karen. 
Since Maggie didn't notice the differences in her boyfriend, who will be the first one to realize Hal is now "Hal"? Anne should know that something's wrong with him, but I'm guessing she will be out of the picture for awhile. Perhaps, Ben will figure it out. That would be a decent tie-in with his decision to keep his harness, if he's able to sense or communicate with Hal since he's now controlled by an Alien.
And, that could help justify Ben's decision to choose his new strengths even with the potential costs over returning to a pure Human state. Which brings up a good question: If it's acceptable and helpful for Ben to remain tied to the Skitters, then is it necessarily a bad thing that Hal and Alexis also have an Alien connection. The answer to that will be pivotal in the fight for both sides.
It's a challenge to know who to trust in this new world they live in. Perhaps Tom is right to trust Cochise. And, maybe he should be weary of President Hathaway instead. Now that the President has Cochise, the sides should start to become more clear. It's a dangerous world and trusting the wrong person or entity could mean death instead of life.
Carla Day is a staff writer for TV Fanatic. Follow her on Twitter and on Google+.