Keeping in step with a solid pilot, Graceland delivered another gripping installment with "Guadalajara Dog."
Clearly Mike has gotten into the beach-side spirit, as his new wardrobe indicates. Loved the fresh threads. Too bad Briggs and Johnny weren't feeling Mike's old school need for justice, though. Hey, if you burn Hector's, stuff gets real!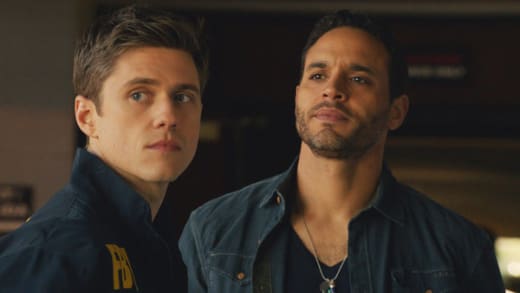 We're actually starting to get a better picture of who Mike really is and what brought him to the Bureau. His Grandfather was a crime scene photographer personally drafted by J. Edgar Hoover himself back in the day. Very cool back story. I also love his line about wanting to fight evil in the world and win. He certainly acts like it. Perhaps to his detriment, as Johnny's spot-on tackle in the alley seemed to indicate.
But all that aside, it also seems that Mike is only getting dragged deeper into the FBI's plot to investigate Briggs, the ends of which are still unknown. If the last 30 seconds were any indication, however, that might be coming more quickly to a head than we might have liked.
Or not.
Apparently for Mike this is the fast track to becoming Deputy Director. The only question is: at what cost? Seems to me that the FBI has enlisted Mike to bring Briggs down. If only I knew why I am supposed to hate the guy enough to take him out. I adore Briggs. He really knows how to put Mike in his well-intentioned place. Let's face it: the quicker Mike wises up, the better of he will be in the long run.
As his massacre on the teddy bears demonstrated, he's got the skills to take on anyone on the fly; he gave those gangsters a valuable lesson in marksmanship. So he's already got the undercover instinct. He just needs some of his other skills refined.
How much did you love seeing Charlie and Mike doing their undercover bit and finally getting to meet Paige? I knew it was only a matter of time - before we met Paige, not before Mike and Charlie got together! Be patient, Agents! Too early to start shipping. But they did look good together! Just saying.
My favorite part of the episode was the bonfire. I hope that's a weekly thing. This week they re-enacted Mike's sharp-shooting lesson with Johnny narrating and the other agents acting as the wounded teddy bears. Priceless.
Also, how do we feel about Lauren leaving and Donnie seemingly leaving the bureau as well? Seems like a lot of change for a single episode. I'm thinking she won't leave without causing some trouble. We'll see.
Other highlights from the episode:
Paige being the only person who calls Briggs by his first name.
Paige singing. What an entrance!
Teddy Bear massacre.
DJ's response to Mike needing the entire crate of "cop-killer" bullets.
Mike and Briggs watching the gangsters brawl over the bullets.
Guadalajara Dogs. I learn about a new food every week.
The housemates reaction to that apparently fowl-smelling fruit.
So, Agents, what was your favorite part of this week's Graceland?
C. Charles is a TV Fanatic Staff Writer. Follow her on Twitter.