The real world may collide with the fictional one on Modern Family Season 5.
In light of the Supreme Court ruling the Defense of Marriage Act to be unconstitutional yesterday, co-creator Christopher Lloyd tells Entertainment Weekly that he's more open than ever to considering a wedding for Eric Stonestreet's Cam and Jesse Tyler Ferguson's Mitchell.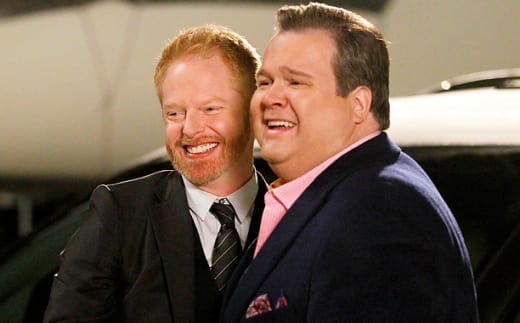 "It's a real possibility," Lloyd said. "It's certainly something we are contemplating on the show in ways we wouldn't have in prior seasons.
"We've had a number of conversations. As you can imagine in Cam and Mitchell's life, they would be feeling that a door has opened that was closed to them. Wouldn't it be pretty tempting to think about walking through it? We imagine a lot of gay couples today are deciding whether to get married now that it's open to them. From our standpoint, that's something to explore."
The show faced a bit of a backlash over waiting so long to have Cam and Mitchell kiss, and Lloyd said he didn't really consider a wedding before because the sitcom "didn't want to make an overt political statement."
But now that the Supreme Court has gone ahead and done so, that viewpoint may very well change.
Matt Richenthal is the Editor in Chief of TV Fanatic. Follow him on Twitter and on Google+.