Royal Pains Season 5 Premiere Review: Cease and Desist
Chandel Charles at .
Reunited and it feels so good.
We traveled back to the Hamptons tonight to join Evan, Paige, Divya and a still-recovering Hank in all the swagger and swank you'd expect of a a Royal Pains summer in "Hankwatch."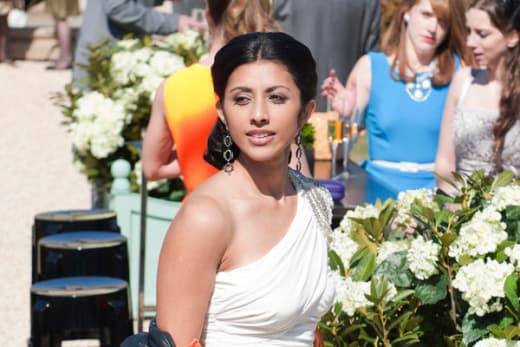 But certainly much has changed since we last left HankMed in the winter, following Paige and Evan's nuptials.Hamptons Heritage closed as it changed ownership, causing a boom in HankMed clientele and a gaggle of "Hankies" to fill in the healthcare gap.
Divya and Rafa broke up because they were only compatible in one way, according to Divya. Good choice to get rid of him, writers. Yet apparently this isn't quite the end of the couple, as it was revealed that Divya is now pregnant.
So much for a quiet start to the summer. One thing is for sure: if this opener is any indication, we sure are in for a wild ride on Royal Pains Season 5.
I can already see where the storyline with Hank is going. He refuses to acknowledge the fact he's still suffering after effects from the surgery. Now that he's seeking out narcotics to self-medicate, it's going to have some serious consequences for his health and the quality of the patient care he administers. Not to mention the potential for him to become addicted to the painkillers... which might cause him to behave in uncharacteristic ways.
If I had to guess one way this was going to impact the plot of the season, it would probably be with regards to his constantly growing suspicion of Dmitri. The hydrocodone is likely going to cause Hank to act out in some way that he wouldn't normally.
If only the poor man knew Boris was actually still alive. We can't forget this little tidbit was revealed in the wedding special last December. I actually think that Dmitri did play a role in Boris faking his death, likely attached to his often illusive business dealings.
One thing I'm wondering about is what purpose the sale of Hamptons Heritage has on the season. I feel like it would not have been such a big deal if it there weren't going to be consequences of some kind for HankMed. Any ideas as to the significance, Hamptonites?
Another important part of this episode had to be the introduction of Mrs. Ballard, a stickler for codes who now has her sights set on HankMed. You have to wonder what this means for the future of the business.
I was really starting to lose hope in Royal Pains by the end of last year, but this premiere has got me more jazzed than ever about all the plots already in motion. I think we're in for one of its best seasons yet!
Other highlights from the episode:
Jeremiah having a girlfriend he didn't want to discuss.
Jeremiah's beard.
Evan using "Brocovich-ed" as a verb.
Evan thinking looking at two houses counted as house-hunting.
Evan referring to the added doctor's as "Hankies."
C. Charles is a TV Fanatic Staff Writer. Follow her on Twitter.