It's been 15 years since Carrie Bradshaw clicked her Manolo Blahniks three times and transported legions of fans to New York City.
Carrie and company turned a 30-minute show on HBO into two movies, a Sex and the City tour and an overall phenomenon - and in honor of the 15th anniversary since this cultural icon premiered, I've tackled the amazing but impossible task of naming the top 15 episodes in series history.
Scroll down for my chronological list and let the opinions fly in the Comments section below...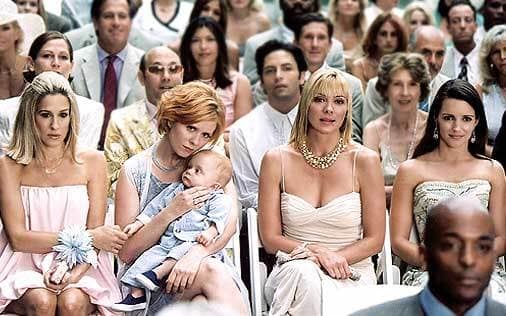 Valley of the Twenty Something Guys: Early Carrie and Big, a young Timothy Olyphant and one of the funniest conversations the series has ever displayed. Hint: it's the four ladies in the cab, talking about a certain kind of sex and then the cab stops short. Charlotte asks "What's that?" They giggle and say "a preview!"
Take Me Out to the Ball Game: Carrie's spot on portrayal of recovering from a break up. Also, is there any better revenge on an ex than being photographed in NY's biggest gossip column with a sexy athlete?
Twenty-Something Girls vs. Thirty-Something Women: The ladies do the Hamptons, Charlotte lies about her age and Carrie sees Big for the first time since he left her... and meets Natasha. Miranda rushes to her aid as she pukes on the beach.
Ex and the City: The age old question: can you be friends with an ex? The girls discuss The Way We Were and the difference between simple girls and Katie girls. Carrie and Big in front of The Plaza, 5 words: Your girl is lovely, Hubbell.
Where's There's Smoke: John Slattery pre-Mad Men. The girls do Staten Island, Charlotte gets wasted. "I've been dating since I was 15, I'm exhausted, where is he?"
Easy Come, Easy Go: Carrie finally breaks down and starts her affair with Big. That scene in the elevator? One of the best in the series. Poor Aidan.
Sex and Another City: Four cynical New Yorkers hit Los Angeles. There are Brazilian waxes, men with eating disorders, movie premieres, and Vince Vaughn. (Honorable mention, Matthew McCounaghey in the episode prior.)
Hot Child in the City: This is my personal favorite episode of the entire series. Samantha plans a Bat Mitzvah, Miranda gets braces and Carrie dates a pothead who still lives with his parents. The girls remember what it's like to be teenagers.
The Real Me: Heidi Klum, Ed Koch, Alan Cumming, Margaret Cho guest star. Carrie wipes out on the runway and teaches us all a lesson in getting back on your feet.
Coulda Would Shoulda: Miranda finds out she's pregnant with Steve's baby. As she considers an abortion, Charlotte is distraught over not being able to get pregnant. Miranda keeps the baby and the two ladies show they can be there for each other no matter what.
The Good Fight: I had to include a fun Carrie and Aidan moment on this list. Their fight in the bathroom always cracks me up. "Knock yourself out putting on the Rogaine and the speedstick!"
I Heart NY: Miranda gives birth and Carrie bids adieu to Mr. Big (for now). Two words: Moon River.
Hop, Skip, and a Week: Harry proposes to Charlotte after their painful fight and Carrie gets broken up with in one of the worst but most legendary ways ever. Cue... the post it!
One: Miranda confesses her love to Steve and he tells her she's the one at Brady's first birthday. Charlotte has a miscarriage but gets herself back on her feet. The introduction of The Russian.
An American Girl in Paris, Part Deux: C'mon, you didn't think I would end this list with anything but the series finale that had me in tears, right? Between Smith coming back to tell Samantha he loves her, Miranda taking care of her mother-in-law,and Charlotte and Harry getting a baby that's enough to make you tear. But then Big shows up in Paris and tells Carrie she's the one. Throw a great song on like "You've Got the Love" and you've got yourself a perfect finale.