Twisted Character Primer: Who's Who? Who Did What?
Jim Halterman at .
For most teens, moving back home after a five-year absence might not be too big of a deal. But for 16-year old Danny Desai, it's quite a jolt because he's been away due to murdering his aunt when he was 11 years old.
Um…excuse me?
Welcome to the world of Twisted, the new ABC Family drama premiering tonight after another series based on murder and mystery, Pretty Little Liars. Like that smash, Twisted is filled with secrets, lies and, of course, romance within its attractive teen cast.
Here is a TV Fanatic Primer on who is who in the world of Twisted, with a little help from from my recent stop at the Los Angeles set...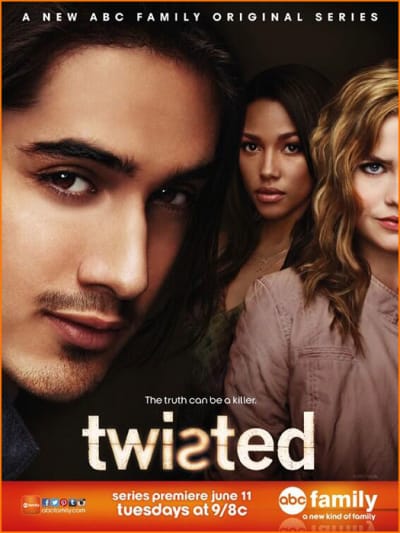 Danny Desai: "I think he's got a pretty good handle on his violence," said Avan Jogia, who plays Danny. The character has confessed to his aunt's murder, but the real mystery that unfolds is why he did it: "I think he's a very charismatic character, but I think what I'm trying to do is make sure everyone knows that that is a mask that he wears."
When murders start happening again just as Danny comes home, all fingers point in his direction. Does Jogia think Danny is still capable of murder? "I don't really know if I want to be the present day murderer," he said of his character. "I would definitely like to explore what made him do the first one. That would be nice."
Jo Masterson: This wouldn't be an ABC Family series without a heavy dose of teen romance, but where does Maddie Hasson, who plays Jo, see things going with Danny? "They're just navigating what their relationship could be now," said the actress, who most recently appeared on Grimm and The Finder. "It's unclear as to whether she wants to have the friendship that they had in the past or something new and more adult."
Since romance is based on trust, is Jo capable of believing in Danny again, especially when the new murders starts? "I feel like she is trying so hard with Danny. She trusts him so much because she wants back what they had when they were younger, and I don't know if that's necessarily possible to get back."
Lacey Porter: The other side of the potential love triangle, Lacey is different from Jo in that she has risen to the top of school popularity and tries to put her past behind her... but she's also drawn to Danny. "It was a traumatic event," said Kylie Bunbury, who plays Lacey. "It's more difficult for Lacey to allow Danny back into her life and Jo and Lacey are socially at different ends of the spectrum and Lacey in general [is] just more apprehensive with it all." Is Lacey a mean girl? Bunbury doesn't think so but viewers can judge for themselves.
Bunbury is very aware that some girls out there might think Lacey is nuts for not letting dreamy Danny back in with open arms: "He's so hot. His hair is so nice," the actress said with a grin. "But, I mean, he murdered someone and kind of ruined her childhood so I'm going to keep you at a distance for a little bit because that seems more real. For a little bit…but that hair though. I can't."
Watch for Lacey's current BF Archie (played by Pretty Little Liars' Grey Damon) to not be too happy that his girl is even looking in Danny's direction.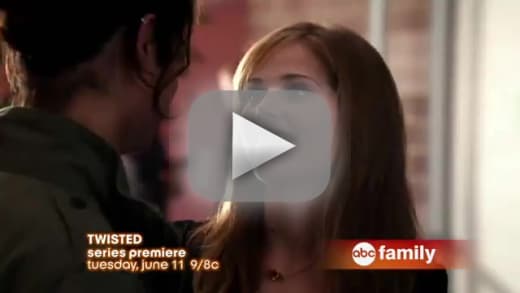 Rico: Playing Jo's best friend has its own challenges when it comes to Danny's return but, explained Ashton Moio, for very good reason: "Danny starts just getting really sketchy and pretty much we find out a lot of things that he's lying about [or] withholding that are really important things you wouldn't really withhold, so then I start not trusting him." Watch for Rico's distrust to grow once Danny and Jo start getting closer and we see just how much of a crush Rico has on Jo.
Karen Desai: Another ABC Family staple – the troubled and sometimes mischievous parent. Denise Richards fills the role as Danny's mother, who also feels conflicted over her son returning after five years. "I think that she probably wasn't the most hands-on mom," Richards told me, "and I think feels very guilty… five years is a long time for a child and I think she's trying to find her way as a mother and trying not to be his friend." And Karen might also feel another emotion when it comes to her troubled son: blame. "Something had to go wrong for him to do what he did," Richards said.
Being the acting veteran with a cast of young actors, does Richards give career advice?
"I think a couple of them asked about the press and they were a little nervous with the red carpet and Upfronts, but that was it."
So far, though, most of Richards' scenes have been with her on-screen son, whose work has already impressed her: "He's worked since he was two…he was on a very successful TV show [Nickelodeon's Victorious] and I think he handles himself really well."
Twisted premieres tonight at 9 p.m. Return to TV Fanatic immediately afterward for a complete review.
Jim Halterman is the West Coast Editor of TV Fanatic and the owner of JimHalterman.com. Follow him on Twitter.