Whoa there, Teen Wolf. "The Girl Who Knew Too Much" is making me head to the floor in a fetal position from all of the revelations of the episode.
The first big reveal was Stiles finally laying it all out for Papa Stilinski. The latter has plenty of skepticism to go around, and, really, no one can blame him. It's a lot to take in, but it's looking like he will finally get there. At least I hope so, considering Ms. Blake - also known as the freakin' Darach - showed her face for the first time this week and kidnapped our favorite sheriff.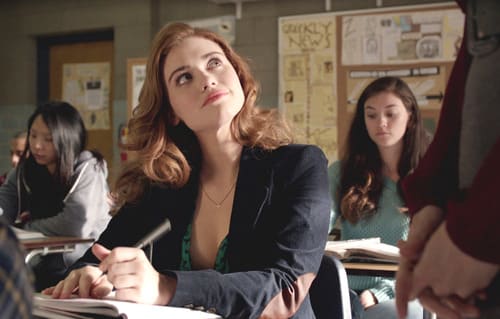 My gut is telling me our officer is fully aboard the Beacon Hills paranormal train, though; considering the records Mrs. McCall pulled for him mentioned the girl found wailing in the woods is connected with hundreds of birds sacrificing themselves. The same event took place way back in "Tattoo" in Ms. Blake's classroom.
Another moment that stuck out is the exchange between Blake and Stilinski and her emphasis on the word "virgins" as she leaned in to kiss and reveal her Darach form to Mr. Stilinski. Is Jeff Davis and company playing with our hearts here? Or could our favorite abominable snowman actually be adopted?
No matter what the answer is to that question, I just hope Ms. Blake isn't able to complete her sacrifice and this is the end to Papa Stilinski. He makes the first half the awesome pairing that is Mrs. McCall and Mr. Stilinski. Please don't kill my dreams, Teen Wolf.
Moving on, the "whatever" part of Lydia was finally revealed tonight:
She's a banshee.
Aside from alerting everyone to incoming deaths (which, again, I hope is not Mr. Stilinski. Feel free to kill off Derek's sister, Cora, however. I can't say I particularly care for her, plus there's this show Reign coming out)... I wonder how Lydia figures into the show's mythology now.
Odds and Ends:
I'm wondering if Paige might be Ms. Blake. They left Paige's body in the forest last week, and Sheriff Stilinski remembers picking up a girl in the forest. It's a thin theory. The only additional connection I can make is since Lydia never turned into a werewolf after being bit my Peter, and Paige didn't turn because she's actually Ms. Blake/Darach. Plus, the in love with Derek thing they have going on.
The Darach's special effects are leaving much to be desired.
Just when you think the twins are completely terrible people they go and do something adorable. Ethan helping Danny prepare for the recital was very cute.
A love quadrilateral might be beginning to take form with Alison and Isaac and Scott and Lydia. There were some definite moments and connections between all four of them tonight.