"The Truth Hurts" was a mostly quiet outing, considering this was a Warehouse 13 season finale. It placed more emphasis on relationships, dynamics and emotions than flashy explosions and special effects.
And it ended up being a stronger season finale specifically for that reason.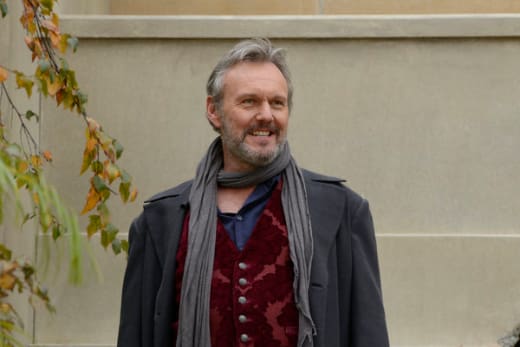 Paracelsus is not the most engaging of villains to ever do something to the warehouse. But he is one of them, and his power and appetite for what surrounds him is all consuming. Those drives were the perfect catalysts to stir the pot and dish out maximum emotional manipulation.
With the ribbon completely voiding all connection to the warehouse, Mrs. Frederick can only put a voice to the connection Claudia has with Warehouse. Throughout Warehouse 13 Season 4, Claudia has stepped up and shown even more initiative. She's up to the task of being the new caretaker, and, while Paracelsus might be able to mix and combine artifacts, I doubt he can keep up with Claudia's quick thinking and knack for getting out of jams.
Artie telling Claudia the DNA to keep her alive while bronzed came, not from Joshua, but from her sister was a bit of a plot twist. Artie's secrecy around the subject didn't raise any flags about the people Claudia lost in the car accident; I assumed (like Claude) they were gone for good. Artie's secrecy made me wonder if their familial relationship was much closer to the truth than I had ever believed. The questions now are this: Where is Claudia's sister, and how bad is she?
As for Pete, Paracelsus manipulated him perfectly. Paracelsus was able to see how scared Pete was over not having any information about Myka's surgery and was able to exacerbate those emotions. Thus, taking over the warehouse.
Pete's final look back as Paracelsus expelled everyone from the warehouse was filled with weight and regret from many different things. Pete considers the warehouse his home and he's very much being kicked out; he considers everyone in it his family and their lives are in danger as they run to the exit; finally, he made a vow to use whatever was on the shelves to save Myka, and that opportunity is gone too.
Warehouse 13 has a lot of cleaning up to do in its final six episodes season next year.
Odds and Ends
Has Claudia's sister ever been mentioned before?
Pete really had the best solution for Paracelsus: tiny little pieces.
Steve hasn't really been given much to do this season. I hope he gets a bit of spotlight next year.
What is Mrs. Frederick's next role? Will she become a regent since she has an insight into how warehouses and caretakers operate?
The Janus coin seems to be the key to take back the warehouse. If Paracelsus' mind can be split from his immortal body, he really has no way of wreaking any damage.