Burn Notice Review: Soul-Crushing Decisions

Carla Day at .
When Michael agreed to work for Agent Andrew Strong in exchange for his mother and friends' freedom, he never could have imagined the cost. He's been forced to become the agent that he strived to never be. With each undercover mission, he's lost a bit of his soul.
Prior to being burned, Michael was a unique agent who tried to get his job done with a minimal loss of life. Ever since he's been deep undercover, he's been surrounded by death. And in "Things Unseen," Michael was forced to kill a friend. And then saw another man executed due to his interference.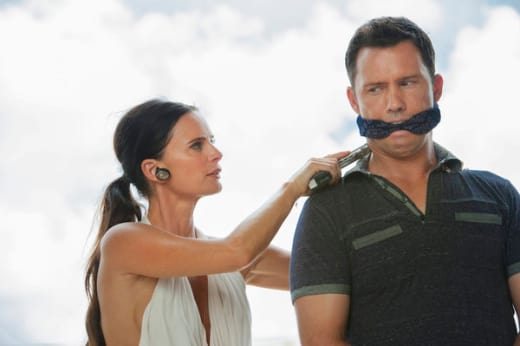 In the aftermath of "Bitter Pill," Michael left his friends behind to go off alone to deal with James killing Snyder in front of them. Michael kept quiet in order to maintain his cover and protect his pals. Fiona called him out for not stopping the execution, but Michael really didn't have a choice. James was going to kill Snyder regardless of what Michael did or didn't say. And now Michael and Fiona both have more deaths on their hands.
Given what Michael now knows, would he have refused Strong's offer to protect his friends and family? I'm not sure. While he tried to keep them out of his uncover life, he went back to what he knew and pulled them in. There's no going back now that both Andrew and James have them to use as leverage.
That meant that Michael felt he had no way out of killing Steele. Once Strong endorsed the execution, Michael was left without options. Was he wrong to kill Steele? That's such a tough call and it was difficult to watch Michael struggle with the decision. Steele wasn't an innocent, instead he chose his dangerous profession. With all the security at his home and when he traveled, Steele knew that he was a target. In the end, it was a friend that betrayed him.
Michael's day got worse when Fiona called him to help her save Carlos. Since James was introduced, there were times that he appeared to be on the right side. He's been taking out "bad" guys. While it could be argued that he's continued to do that even when saving Carlos, he clearly has no regard for life. Is it wrong for a bad guy to kill other bad guys? Where is the line?
When Michael called for assistance, he probably didn't expect that eight people would die to save Carlos, but that's what happened. The man after Carlos was executed by his lieutenant and the Colombia drug supplier was forced to make the call due to an attack on his compound which lead to seven deaths. A tragedy.
Michael was running away after Snyder's death... how will he handle these additional deaths? How far is he willing to go to maintain his cover and fulfill his deal with Strong? He has to be close to a breaking point. At this point, his only salvation would be for Fiona to stand by him and help him accept what's happened and move on. Though, I'm not sure she'll be able to come to terms with the end of her relationship with Carlos.
Regardless of her feelings for Michael, Fiona does love Carlos. She called Michael for him and couldn't have predicted the massive cost of saving him. At the same time, it made sense for Carlos to walk away from her. She's integrated into Michael's life and isn't able to give herself fully to Carlos even if she wants to be with him.
I never expected to be sad to see Fiona and Carlos break up, but it was a heartbreaking moment. Fiona tried to do the right thing and it ended up breaking her heart. In the long run, it will be for the best, though. Fiona and Michael belong to together. And, after all Michael has lost, they should find happiness together to live out their days away from the CIA.
There's only three more episodes to make that happen. Is it possible? I certainly hope so.
Carla Day is a staff writer for TV Fanatic. Follow her on Twitter and on Google+.