It seems the "King's Castle" is about ready to crumble.
Between the animosity erupting between housemates and the truths that are slowly creeping to the surface, is there anyway Graceland can ever be the same?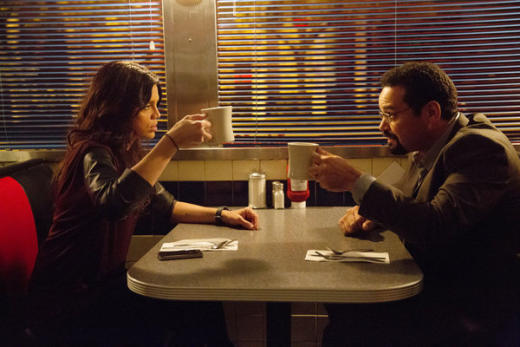 We all knew it was coming: the inevitable moment when Mike would come out and tell Briggs the real truth about his assignment to Graceland. Little did Briggs know, I'm sure, that the revelation was only a result of Mike's desire to assess the validity of claims he might have been responsible for the death of Juan Badillo.
Of course, Briggs quickly found out he was, in fact, to blame for this event, under the impression that Badillo was actually Jangles. Big surprise, bro! And on top of that, it's another secret that Briggs is going to have to do his best to keep from the house.
Funny thing is, the more secrets he's forced to keep, the more sketch he looks. Rightly so. He went so far as to falsely invite Bello to a meet... only to have him catch Mike and Charlie having a conversation about the case, blowing his cover wide open. Why did he do that? To protect the fact that he's created a false identity as Odin that Bello would have spilled the beans to Mike eventually.
The worst part about it was the fact that Mikey incurred additional damage to an already vulnerable wound. Even I wanted to double over seeing him in pain like that, as if I had been the one randomly assaulted.
It really stuck out to me that the house Briggs has always been so fierce in protecting might actually be crumbling from the foundation up, seeing as Briggs always seems to be the one intent on controlling it and keeping it their safe haven. With all the secrets coming out, this house could likely implode, with Briggs the clear epicenter.
Then there's the business of Jakes' birthday. Johnny has probably never worked so hard in his life on something so seemingly insignificant. To Johnny, it was like they were planning an end-of-the-world bash. I would not have found seven strippers and a bounce house to be the ideal birthday bash, but then again, who am I to judge?
I have to wonder, though, why it is that Johnny wouldn't have figured out at some point exactly why Jakes is so adamant about not celebrating the big day? I know everyone has secrets in the house, but one wonders how Jakes acted the previous year. If he wasn't as drunk as he was tonight, I suppose Jakes managed to effectively hold in whatever feelings motivated his actions this time around.
One moment that really made the episode, and in many ways brought home everything that was going on in the house, was Johnny's speech about how he was just trying to do something for his family that would allow them to be normal for a second. Really, it's not too much to ask. But in the grand scheme of things, it's the most daunting request in the world, considering the fact that nothing about their situation is normal.
How much longer do you think Briggs can go without bringing the other housemates in on his secret?
C. Charles is a TV Fanatic Staff Writer. Follow her on Twitter.