After a two week hiatus, Graceland returned with another high stakes episode.
From Mike's encounter with Bello to Briggs' other secret about playing Odin coming closer and closer to getting out, it seems as if all the lies that once laid dormant came home to roost in "Bag Man."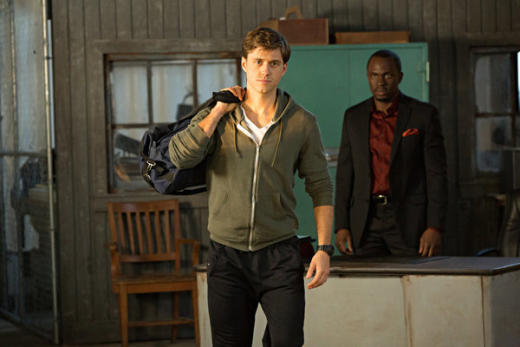 We always knew Mike would have to fly too close to the sun in order to achieve the bust he's worked so hard to make, but we had to know it wouldn't be long before that sacrifice would take its toll.
Of course, we should have guessed that it would be Mike's relationship with Abby that would serve as the safety valve through which he unleashed his frustrations, in the sense that he invited her back to the house and allowed her upstairs - wrong rule to break, bro. And, of course, Paige was there to put Mike in his place, as always.
What I think I liked most about this episode was that it actually confronted the risks and sacrifices Mike is taking head on. It's not a new theme and the manifestations of its consequences are certainly not the first, nor will they be the last, that we've seen play out in Graceland. I am only sorry that Abby had to go. I really liked her. Then again, if you asked Paige, this was clearly the only plausible outcome.
In some ways, we can say that Briggs once again getting away with playing Odin was the other plausible outcome which we should have expected. Briggs is already burned beyond recognition in my eyes. He is fast approaching a point of no return with this Odin bit, and I wouldn't put it past Charlie or Johnny to be the first to completely blow his cover.
Briggs' multitude of secrets are such that they are really going to bring the house down, figuratively and very possibly literally. Not only is he working with his drug addiction, he's now parading around as a kingpin. One wonders if he really didn't create the persona to put something bigger in motion. Did Briggs ever consider the possibility of the walls closing in on him all at once at any time in the future? 
Part of me can't believe he's not telling his housemates what he's done. I get he's already in pretty deep, but, seriously, with everyone looking questioning already, there isn't really much left to go sideways besides him actually getting ejected from the bureau all together. Mike already put the Bureau on high alert with regards to his acquired addiction. When will it move in?
And how long do you think Briggs has before the gig is up?
C. Charles is a TV Fanatic Staff Writer. Follow her on Twitter.