When the term "All for One" was coined, I'm not sure anyone thought of taking it to the extreme that Rizzoli & Isles did this week.
In many ways, the episode served as a cautionary tale for anyone who thought about messing with smart, nerdy teenage girls.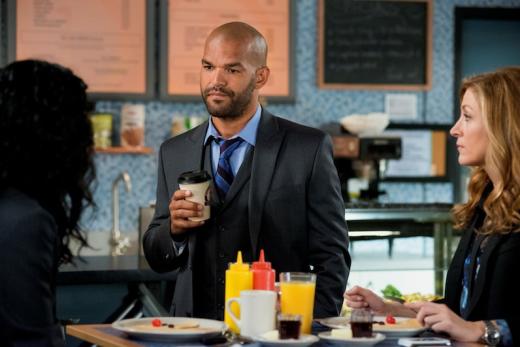 For all of his supposed intelligence, I couldn't help but shake my head when Mr. Sutton jumped out into the road when he heard someone gun the car engine. As Maura mentioned in this Rizzoli & Isles quote…
Maura: That's a cruel irony. Drivers Ed teacher dies in a hit and run. | permalink
Perhaps not cruel enough. When everyone was touting the dead man as a hero of a teacher, I knew the opposite was bound to be revealed. And when Maura discovered Viagra in his system, it was obvious he wasn't currently using it at home. Not to mention that given his physical appearance, his story about being out jogging every night was downright laughable. 
As Maura tried to console the three cute, brainy girls by the fence I had to wonder if one of them mowed down their teacher. What unfolded turned out to be even more intriguing. 
Sutton's death may have been an accident but in the end he met his match. The girls proved they'd earned their place in those Honors classes as the three stuck to their story despite numerous interrogations; each confessing to mowing the man down after he tried to coerce sex for good grades. 
Although the silly cheer and friendship bracelets made me cringe, in the end I found myself rooting for the girls. I'm not condoning violence but I found it hard to care about getting justice for a teacher who would do that to the children in his care.
In other news, Jane's story was kind of odd. As she hobbled throughout the episode she wondered if Martinez's odd behavior around her was the equivalent of him pulling her pigtails. Turned out she was right... but it was weird.
After he confirmed that she's in a relationship with Cassey who is stationed in Afghanistan, Martinez made a play for Jane by offering to buy her drinks. And then she said yes to his raincheck?
I was thoroughly confused. Was Martinez being a complete ass hitting on someone else's girl? Did Jane say yes to the raincheck because she panicked in the moment or did she mean it?  I was really thrown by the whole encounter.
On the flip side there were plenty of little things to keep this episode special:
Everyone should have Angela around to make them bunny pancakes when they aren't feeling well.
How adorable was it that Frankie brought his grown sister a gift because that's their tradition when they're under the weather?
I loved that Korsak was quick to point out that Frost's new love interest was the barista who called Jane a bitch last week.
Best of all was the way Maura looked out for her best friend as she insisted on hopping around on one foot. It may not have been to the level of a teenage girl murder conspiracy but it was still what best friends do.
Jane: I don't know if I'd die for you but I'd come damn close. | permalink
Hopefully Rizzoli & Isles Season 4 never gets so dark that we find out just how close they'd come.
C. Orlando is a TV Fanatic Staff Writer. Follow her on Twitter.